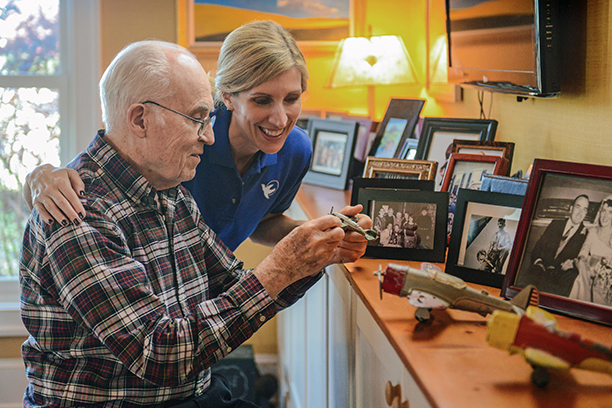 Our Experience
Our Experience:
We understand how difficult it is to take care of an aging loved one. We also understand how hard it is to hire an agency to help. Many people feel anxiety and guilt when they contemplate bringing in an agency to help them. This is a normal feeling. The good news is the most common feedback we hear is that the families wished they would have called us sooner. We can relieve the stress and let you resume your role as a daughter or a son.
We have been caring for families in Utah for almost 10 years. During that period we have cared for hundreds and hundreds of families. Our service is built around your needs. We regularly provide live-in 24 hour care, one hour Angel's visits, and everything in between.
How We Find Experienced Caregivers:
Our Caregivers are our Angels. To find the best Angels, we regularly interview over 30 applicants to find one that meets our expectations. Each applicant must pass a rigorous interview and screening process. First, they go through three separate interviews with our directors and executive staff. Here they validate required caregiving experience, personal skills, and willingness to enrich skills to best care for elderly. Next, each applicant must pass a state (Utah Department of Health) and national background check, driving history examination, and a drug test. These background checks ensure that each caregiver is cleared to provide care for elderly. After this vigorous screening we ask ourselves one very important question, "Would we trust this person to take care of OUR Parents?" Only after an applicant passes all levels is he/she offered the position of Angel.
How we help make our experienced caregivers the best in the industry:
Once we are confident we have found a great caregiver our industry leading experience truly shines. We provide continuous trainings to help our caregivers become the best trained caregivers in the industry. Each caregiver must complete a caregiver core skills training. This training is similar to that of a Certified Nursing Assistant. It covers all of the key concepts that Nursing Assistants learn in order to care for seniors. Each caregiver will also attend classes on Palliative Care.
Palliative Care – As defined by The Institute of Medicine
"Palliative Care seeks to prevent, relieve, reduce or soothe the symptoms of disease or disorder without affecting a cure. Palliative Care in this broad sense is not restricted to those who are dying or those enrolled in hospice programs. It attends closely to the emotional, spiritual, and practical needs and goals of patients and those close to them."
We provide additional trainings on fall prevention, Alzheimer's and Dementia Care, HIPPA regulations, infection control, blood-borne pathogens, elder abuse and neglect, stress management, and more.
Visiting Angels provides in-home care, senior homecare, elderly care in : Bountiful, Woods Cross, Centerville, Kaysville, Fruit Heights, Layton, South Weber, Uintah, Riverdale, South Ogden, Washington Terrace, Ogden, North Ogden, Pleasant View, Harrisville, Farr West, Plain City, Slaterville, Morgan, Mountain Green, Eden, Liberty, Huntsville, UT.
Serving Davis and Weber Counties
Visiting Angels LAYTON, UT
1649 Antelope Dr #370
Layton, UT 84041
Phone: 801-820-5874
184 E 500S
Bountiful UT 84010
Phone: 801-820-5874