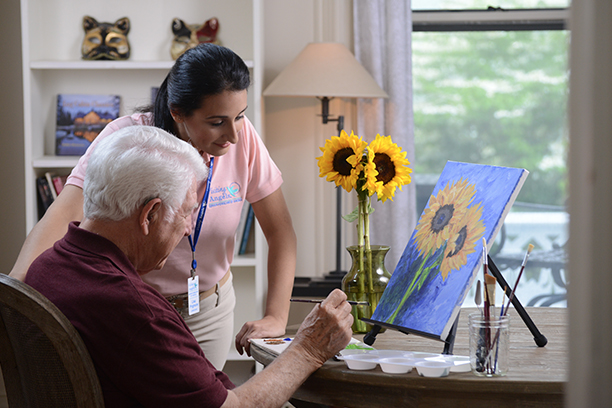 Meet the Visiting Angels Home Care Staff at Our Wheat Ridge Office
Greg Elliott - Owner/Executive Director
Greg founded the Denver, CO Visiting Angels office in 2008 after a successful, twenty-year career in pharmaceutical sales and management. The original office in Lakewood has since been relocated to Wheat Ridge to accommodate our ever-expanding team.
In 2016, Greg acquired the Boulder County area, which has served the Longmont and Boulder communities since 2002.
In 2019, Greg acquired the Westminster territory, which continues to grow and provide compassionate care throughout Northwest Denver.
Greg is a proud graduate of the University of Colorado at Boulder. He currently resides in Arvada and loves spending time with his wife and son and their Australian Shepherd. When not at the office, Greg enjoys travel, skiing, golf, and fly-fishing.
---
Amy Ahrens - Chief Operating Officer
Amy joined Visiting Angels in 2012. While with Visiting Angels, she has worked as a Care Specialist, Billing/Payroll Specialist, Agency Manager, and currently as the Chief Operating Officer. Prior to working in the home care industry, Amy worked in operations management within the telecommunications industry. Amy is a Nebraska native and a graduate of the University of Nebraska at Lincoln with a degree in electrical engineering.
---
Ann Keeler - Care Manager
With an extensive background in sales and marketing, Ann spent several years managing the care of her own parents. Her personal expertise has made her a welcome resource and a dynamic field representative to our professional referral sources. Her ability to create relationships with case managers and partners in the health care community has helped our Visiting Angels office continued growth.
Ann received her B.A. degree in Communications from Temple University in Philadelphia, PA. She is an active volunteer of the Alzheimer's Association and other philanthropic organizations. She is part of the Longmont Senior Center Planning committee for Folks on Aging and a volunteer facilitator for the Lunch Bunch team, helping local families with dementia stay in their homes with dignity and grace.
---
Mark Johnsey - Care Coordinator
Mark is a retired Illinois State Police Crime Scene Investigator and Forensic Anthropologist. He retired from the Department with 26 years of service at the rank of Master Sergeant.
Mark also served on the National Commission on the future of DNA, National Institute of Justice in Wash. D.C. Mark was a faculty member of the St. Louis University Medical School, Department of Environmental Pathology for 18 years.
Mark also served as Chief Electrician on a harbor class tugboat and a Deep Sea Diver in the U.S. Navy. On the tugboat, he was the assistant to the Chief Engineer. As a Deep Sea Diver for the Naval Station at Pearl Harbor his duties included rescue salvage work, and underwater welding and cutting using various methods of diving. Mark was later employed at a Midwest Law Firm dealing with case management, client relations and as a Legal/technical Investigator. He specialized in nursing home abuse and medical malpractice.
In his spare time, Mark enjoys cycling and rock climbing.
---
Robin Chandler - Billing and Payroll Specialist
Robin joined our office in 2016 after spending time as both a caregiver and operations manager in the home care industry. Robin has a wealth of experience in public health, medical laboratory science, education and business administration.
She holds a Bachelor's Degree in Biology and Chemistry from Metropolitan State College of Denver and a Master of Public Administration from the University of Colorado in Colorado Springs.
In her free time Robin likes crafting, watching movies and looking after her cat.
---
Tawnya Gorse - Agency Manager
Tawnya joined the Visiting Angels family as a Caregiver in 2009. She became a member of the office staff in 2016, bringing her passion for helping seniors to other aspects of Visiting Angels.
She began caregiving in 1992 in Pennsylvania and realized at a young age that her passion lies in helping others. She worked in Pittsburgh as a Certified Nursing Assistant for nine years, including two years working with patients in a secure Alzheimer's unit. She takes great pride in knowing she has made a difference in someone's life and made their day a little brighter.
In 2007, Tawnya received an Associate's Degree in Medical Assisting. During that time Tawnya worked as a Medical Assistant with a local family practice, but soon realized she missed the interaction with seniors and began with Visiting Angels.
Tawnya's love for helping other continues at home with her family. She is the proud mother of two bright, funny, and extremely active boys that keep her on the go. Tawnya enjoys playing on co-ed softball and volleyball teams and participating in 5k races.
---
Kelly Steffen - Care Manager
---
Melanie Stewart - Employment and Retention Coordinator
Melanie joined Visiting Angels in 2017 after receiving her Bachelor's Degree in Psychology from Metropolitan State University of Denver.
At home, Melanie manages her husband, young daughter, and two dogs, each of which causes enough trouble to keep her busy! In her free time, Melanie enjoys yoga and reading.
---
Dillon Harper - Employment and Retention Coordinator
---
Rhonda Escobar - Care Coordinator
---
Priscilla Zepeda - Care Coordinator
Priscilla joined Visiting Angels in 2015 following 3 years in the healthcare industry. In addition to time with her family, Priscilla enjoys sports (especially football), swimming, boating and puzzles.
---
Sydney - Official Greeter
Sydney has been a proud member of the Visiting Angels' Team since 2011. She is the official chair dog of the Greeting Committee, and in her role, she happily greets each visitor with a wagging tail and an enthusiastic hello. When not napping, Sydney enjoys a run outside, chasing geese, riding the elevator, and accepting any yummy treat offered her.
---
Serving Central Denver, Lakewood, Arvada, Wheat Ridge, Golden & the Surrounding Areas
Visiting Angels DENVER, CO
4251 Kipling St #535A
Wheat Ridge, CO 80033
Phone: 303-232-9999