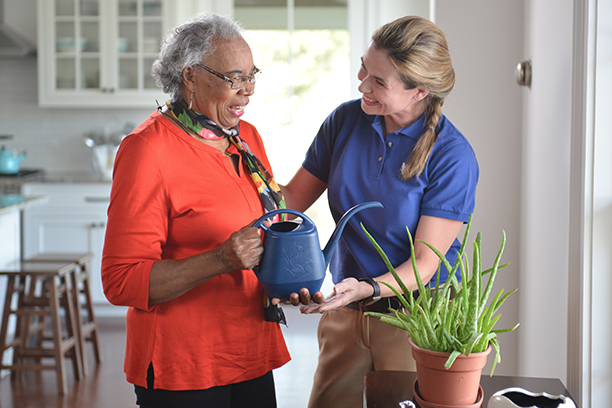 Frequently Asked Questions About Elder Care Services in Wheat Ridge, CO and Surrounding Areas
Visiting Angels answers your questions about elder care services in Wheat Ridge, Denver, Golden and surrounding communities in Colorado
Q. What services do you provide in Wheat Ridge and surrounding areas?
A: Aside from companion care, Visiting Angels also provides personal care services. Our elder care services are designed to provide the level of care your loved one needs to continue living safely at home. They include fall prevention, medication and fluids reminders, grooming or bathing assistance as well as light housekeeping and running errands.
Q: What is "aging in place"?
A: Aging in place refers to the ability of any person to continue living in their own home or, with extra assistance, in an assisted living facility instead of in a nursing home.
Q: Do you provide senior care in assisted living facilities?
A: Yes, Visiting Angles of Denver provides elder care services in homes as well as in assisted living facilities. In some cases, the assistance provided in an assisted living facility is not enough to enable a senior to remain independent. When this is the case, our qualified caregivers provide the required level of care to make this possible. Keep in mind that in some states, seniors are allowed to hire private help in an assisted living facility or a nursing home, and in some are not.
Q: How quickly can care be provided?
A: Usually, they can be provided within a 48-hour period, but sometimes even the same day.
Q: Can I reschedule if I have appointments to keep?
A: Just give us one week's notice and we will make any schedule changes you need in order to take care of your responsibilities. At Visiting Angels, our goal is to make the schedule work for our client and their family, not the agency. Therefore we strive to meet any of your needs and requests. We will do everything in our power to ensure the schedule you want is the schedule you get.
Q: How do I get started with Visiting Angels Denver?
A: Feel free to call our office in Wheat Ridge, CO, or if you prefer, you can easily complete our online contact form. After you contact us, our trained staff members will come to your home and conduct a free, no-obligation assessment. By listening to your directions and requests, we will recommend our caregivers who have the skills, personality and availability to meet your needs. After you have met them and we receive your approval, they will begin working for you.
If you would like to learn more about how in-home elder care services from Visiting Angels can help your loved one, please contact our office in Wheat Ridge today! We're happy to answer any questions you may have and will work with you to find the best home care solutions for your family.
Serving Central Denver, Lakewood, Arvada, Wheat Ridge, Golden & the Surrounding Areas
Visiting Angels
DENVER, CO
4251 Kipling St #535
Wheat Ridge, CO 80033
Phone: 303-232-9999