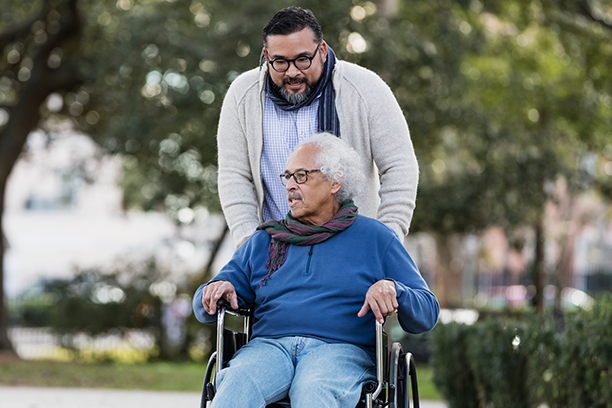 How Our Attentive Home Care Services Help Seniors in Wheat Ridge, Denver and Surrounding Areas with Incontinence Issues
With incontinence care from Visiting Angels Denver, seniors in Wheat Ridge, Denver, Golden and surrounding areas in Colorado can receive personalized and dignified care at home from a skilled and attentive home care professional
If your loved one is having problems with incontinence, Visiting Angels Denver is here to help. Our locally owned and operated agency provides dignified incontinence care to aging adults in Denver, Wheat Ridge, Lakewood, Aurora, Arvada, Golden, Glendale, Evergreen and surrounding areas in Colorado. Our caregivers are trained to tackle incontinence issues with discretion and utmost respect for the client.
Why is Incontinence Care Important?
The loss of bladder or bowel control, otherwise known as incontinence, is fairly common in senior years. Various age-related difficulties, side effects from taking multiple medications, and arising health issues can often lead to incontinence in older adults, causing much discomfort and embarrassment in the process. To make matters worse, incontinence can even cause further health problems or aggravate already existing ones, not to mention hygiene issues that can stem from all this.
With the help of attentive home care services from Visiting Angels Denver, your parent can get the care they need to maintain a high quality of life and remain comfortably at home throughout their golden years.
How Can Visiting Angels Denver Help My Loved One Manage Incontinence Issues?
The goal of incontinence care is to help minimize embarrassment as much as possible. This includes assisting your loved one to get cleaned up with as little as fuss as possible while noting when the accident occurred to make it easier for your parent's medical team to find the root of the problem.
Should an accident occur, we will assist your mom or dad with cleaning, bathing and dressing. Our attentive home care providers will also clean any defecated clothes, sheets or parts of furniture. To avoid the risk of hygiene issues such as development of rashes or infections, we promptly resolve these matters, helping care recipients feel less embarrassed.
Moreover, your assigned caregiver can closely monitor Mom or Dad's toilet habits and make log entries when accidents happen. The purpose of these logs is to help your loved one's physician determine the cause of incontinence and how to treat the condition successfully.
Get in touch with our Wheat Ridge, CO office today to learn more about incontinence care and other attentive home care services we regularly provide in your area. We are available 24/7 to answer any question you might have and offer a free in-home assessment where we visit your loved one's home to discuss their care needs.
Visiting Angels Denver is here for you!
Serving Central Denver, Lakewood, Arvada, Wheat Ridge, Golden & the Surrounding Areas
Visiting Angels
DENVER, CO
4251 Kipling St #535
Wheat Ridge, CO 80033
Phone: 303-232-9999