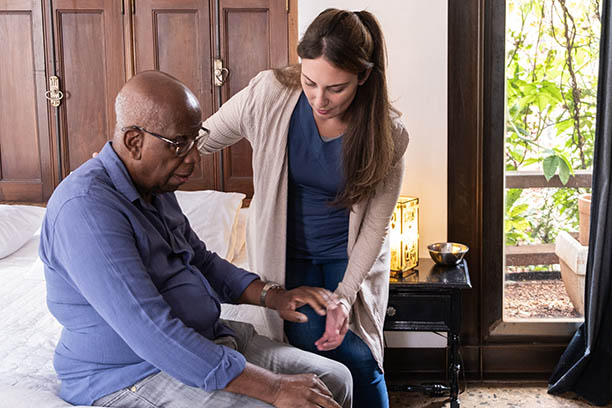 Comforting Palliative Care Services for Seniors in Wheat Ridge and Denver, CO
Our Certified Palliative Care Program provides comforting living assistance services to seniors in Denver, Wheat Ridge, Golden and surrounding Colorado communities by caring for their physical, emotional, social and spiritual needs
At Visiting Angels Denver, our in-home palliative services allow us to focus on improving the quality of life of seniors and older adults by taking care of all their physical, emotional, social and spiritual needs. Contrary to popular belief, it is not the same as hospice care, which is delivered to seniors with limited life expectancy. These two types of care do have some similarities - they both aim to increase comfort and minimize any pain - but the main difference is that palliative care services do not just cater to those with terminal or progressive conditions.
Our living assistance care services are available to all clients who want to live better, more comfortable lives in Wheat Ridge, Denver, Arvada, Lakewood and surrounding communities in Colorado. We offer specialized in-home care services that can make a real difference in your loved one's life, regardless of their age or health status.
The Benefits of In-Home Care from Visiting Angels Denver
Our Life Care Navigation collection of senior care services features many different care programs, including palliative home care. Our caregiving approach is based on providing our clients with all the support and comfort they need to overcome any challenges and enjoy their senior years. Our living assistance services are holistic and focus on the individual. These are just some of the reasons why we are able to assist seniors with healing and regaining their hope and joyfulness.
Our palliative care services can transform the lives of our clients on all levels, including physical, emotional, social and spiritual:
Physical care: Our caregivers are trained to recognize the signs of common health issues and failing health in seniors. We can help our clients reduce the impact these signs have on their well-being by offering assistance with daily tasks and encouraging them to remain as active as possible.
Emotional care: We understand that many seniors suffer from depression, stress, anxiety or stress. Our caregivers will do all they can to support your loved one as they age and help them lead a happy life.
Social care: Our caregivers engage our clients in meaningful conversation and interaction, which allows for the formation of a strong client-caregiver relationship.
Spiritual care: We aim to restore hope to our clients' lives and we make sure to always treat them with the utmost respect.
Getting Started with Living Assistance Services from Visiting Angels Denver
If you believe your loved one could benefit from in-home palliative care, our office in Wheat Ridge, CO, is happy to answer any questions or doubts you may have about our in-home care services and schedule a free meeting where we can talk about your parent's care needs.
With the Certified Palliative Care program from Visiting Angels Denver, you can have peace of mind that your loved one is always safe, comfortable and well taken care of.
Serving Central Denver, Lakewood, Arvada, Wheat Ridge, Golden & the Surrounding Areas
Visiting Angels
DENVER, CO
4251 Kipling St #535
Wheat Ridge, CO 80033
Phone: 303-232-9999