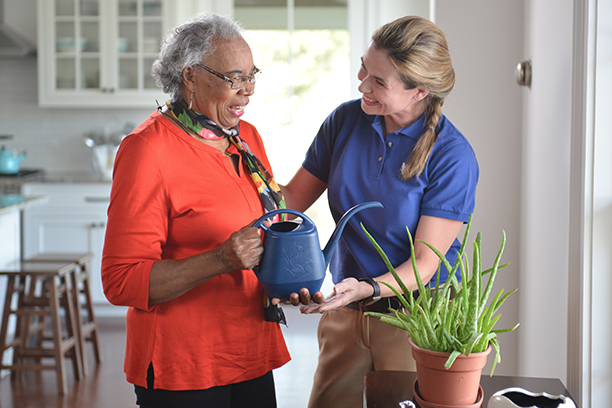 Light Housekeeping Services for Seniors in Wheat Ridge, Denver and Surrounding Areas in Colorado
Learn how our home care providers can help seniors in Wheat Ridge, Denver, Golden and surrounding areas in Colorado maintain a clean and safe living space with light housekeeping assistance
Every day, we have to do our chores in order to maintain a clean home. However, with age, some of those tasks become a challenge. A lot of seniors do not have the strength or coordination needed to maintain their household due to their age-related issues or health problems. Living in a messy and unclean home can even present a safety and health hazard.
Of course, you can always hire a maid to help your loved one with daily chores. However, keep in mind that professional in-home care from Visiting Angels Denver includes assisting seniors with housekeeping tasks. Therefore, our trained caregivers will not only help your parent with everyday activities, but will also provide personalized in-home support that can ensure your loved one's well-being. With our help, your loved senior will age in a safe, clean and healthy environment and maintain their independence.
How Our Light Housekeeping Services Help Seniors Maintain a Tidy Home
Maintaining a clean home and ensuring the tidiness of the living environment of your parent is important for so many reasons. Living in a dirty house with all the germs, bacteria, allergens and all the other dangerous things can seriously diminish your loved one's frail health and cause a list of various illnesses. Additionally, a messy and cluttered house presents a fall hazard and your loved one can easily get injured, especially if they have mobility issues.
Our caregivers can assist with:
Vacuuming
Dusting
Laundry
Taking out the trash
Making the beds
Cleaning countertops
Changing bedsheets
And more
Keep in mind our light housekeeping services do not involve heavy-duty tasks such as moving the furniture, cleaning the carpets, washing the windows, mowing grass or shoveling snow. Our caregivers focus on the areas of the home that are important for the well-being of the client.
Aside from keeping your loved one's home clean, tidy and safe, our caregivers can also provide proactive care at home and friendly companionship. With home care solutions from Visiting Angels Denver, you can rest assured that your parent will receive all the care they need in order to live a happy, healthy and active life.
If your loved one could benefit from our light housekeeping services or you want to learn more about our in-home care services, call our Wheat Ridge, CO office today. Our representatives are here to answer all of your questions or and schedule your free in-home consultation.
Serving Central Denver, Lakewood, Arvada, Wheat Ridge, Golden & the Surrounding Areas
Visiting Angels
DENVER, CO
4251 Kipling St #535
Wheat Ridge, CO 80033
Phone: 303-232-9999