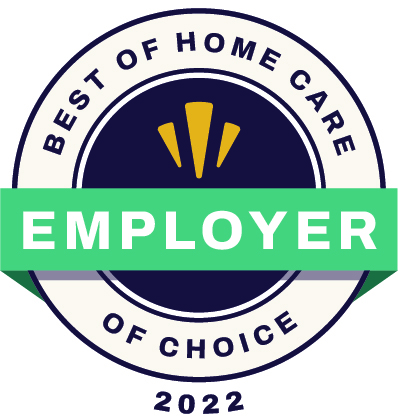 At Visiting Angels Gastonia, we understand that our caregivers are the most valuable piece of our company. They are the ones who are constantly going above and beyond to connect with their seniors and do everything in their power to help them age in place from the comfort of their own home.
This is why we take great pride in demonstrating the same level of respect for our employees and investing in their personal and professional development to help them succeed.

If you are an aspiring caregiver and are wondering which home care provider to choose, then look no further than Visiting Angels Gastonia. We have been named the Best Place to Work by a consensus poll at the 2016-2017 Caregiver Choice Awards, as well as a 2020, 2021 and 2022 Employer of Choice by Home Care Pulse. We have also been named the best place to work by many personal caregivers, home health and nursing aides in Gastonia, Cramerton, Kings Mountain, Shelby, Belmont and surrounding North Carolina communities. We were ranked the top agency to work for out of a poll that included agencies with over 50 locations nationwide.
If you'd like to join our team of home care professionals, we highly encourage you to apply to one of our caregiver jobs today!
"Working for this wonderful, caring and loving facility has been so rewarding! The relationships that are built between the client and care giver, the relationship of employees to employees, and mostly having such a strong supportive team behind you! If you have the urge to care for someone and would enjoy doing so, this is the place to work for! I can say for myself this has been one of the best experiences for myself. From the office staff to management to the clients! I look forward to going to see the clients I have, they bring so much joy to my life! Not only is this a wonderful work place but it also so rewarding! Seeing the clients smile from the time you walk in the door…. Telling you how thankful and grateful they are to have your help and some that look forward to a hug first thing in the morning or when you leave! Our clients are the best and so loving! I love what I do, I will continue this path in my life! Thanks Visiting Angels for allowing me to become apart of such a amazing team and giving me the opportunity to share my companionship with such sweet and wonderful clients!"
- Sharon R.
How We Help Seniors in Gastonia and Surrounding Areas
Our caregivers help clients with a variety of essential personal home care services, including:
Light housekeeping

Help with grooming, bathing, and dressing

Meal prep and planning

Mobility assistance

Joyful companionship

Transportation

And more
At Visiting Angels Gastonia, our caregivers have access to great career opportunities to do rewarding and fulfilling work. You get to make a difference in people's lives every day and connect with those who may be lonely or unable to take care of themselves. At Visiting Angels Gastonia, we do not overload you with clients, we aim to give you an opportunity to spend more quality time with seniors to establish a connection with them that you both enjoy.
Benefits of being a Visiting Angels Caregiver:
Competitive pay based on experience
Flexible schedule to promote work-life balance
$50 bonus after completing the hiring process & completing 80 work hours
Free PPE for Caregivers (masks, gloves)
Safe work environment
Ongoing professional development
401K program with company match
Referral programs that reward you for helping build our caregiver team
Opportunity to work near your home
We treat you well because we're thankful for the work you do!
If you have any prior history as a caregiver in any shape or form, then take a look at our available caregiver jobs at our Gastonia, NC office below and apply today!