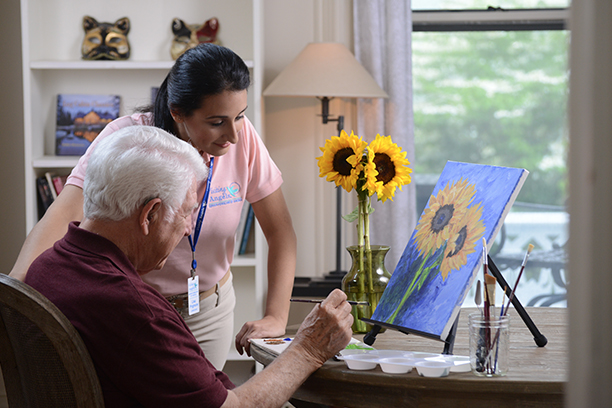 Certified Palliative Care: Comforting In-Home Care for Seniors in Gastonia, NC and Surrounding Areas
Our Certified Palliative Care Program is designed to provide comprehensive comfort care to seniors in Cramerton, Kings Mountain, Gastonia and surrounding areas of North Carolina
At Visiting Angels, we provide home care services to seniors in Gastonia, NC helping improve their quality of life. We do this by honing in on ways to take care of a seniors' physical, emotional, social, and spiritual needs. Many individuals receiving this sort of care have a short life expectancy, so care is focused on providing comfort and helping older adults do everything they wish in this final stage of their life.
Many individuals think of palliative and hospice care as essentially very different. However, both palliative and hospice care have a range of similarities. To begin with, both palliative and hospice care focus on comfort and improving the quality of an individual's life. The difference is that in hospice care, despite the fact that individuals in both types of care have received a dire diagnosis, individuals are much closer to the end of their lives.
Many individuals in palliative care do not have a terminal diagnosis. However, they do require quite specialized care, most often provided around the clock. As part of our services, we will provide your loved one with comfort care. This is very much at the core of all of our home care services. Our mission is to always help older adults remain in the comfort of their own home without ever compromising their safety.
Learn More About the Certified Palliative Care Program
Life Care Navigation™ is a unique brand under which we provide a wide range of caregiving services, including palliative care. We will help your loved one live in a comforting and supportive environment through dignified caregiving.
We do this by focusing on your loved one's needs. As part of our comfort care, we will:
Make sure their physical needs are taken care of, also being there to take note of and react to any common symptoms experienced by older adults;
Interact with your loved one with compassion, ensuring they are living in a dignified environment. We want to make sure their emotional needs are being taken care of as many older adults suffer from depression, loneliness, stress, or anxiety;
Provide companionship care, helping take care of your loved one's social needs;
Address their spiritual needs by assisting them in practicing their religion.
To find out more about comfort care from Visiting Angels or to schedule a free in-home care consultation, please call our Cramerton, NC office today!
Serving Gastonia, Kings Mountain, Cramerton, Belmont, Mount Holly, Shelby and Surrounding Areas in NC
Visiting Angels in Cramerton, NC
102 Hidden Pastures Dr #202
Cramerton, NC 28032
Phone: 704-469-4207