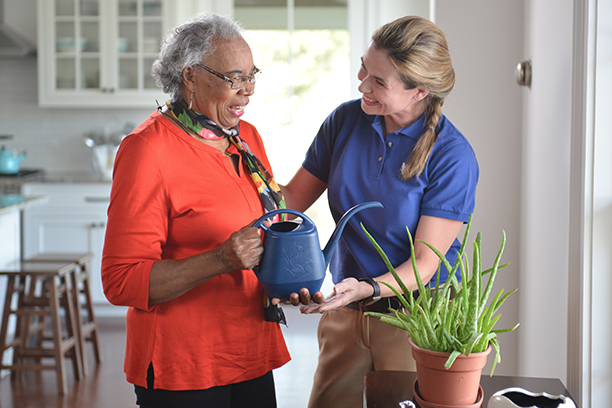 In-Home Supportive Services to Help Seniors in Gastonia, NC
At Visiting Angels Gastonia, we know that safety in the home is a top priority for seniors in Gastonia, Cramerton, Kings Mountain, Shelby, Belmont and surrounding areas in North Carolina. Things we often take for granted can pose a safety risk to elderly adults who struggles with balance, memory issues or vision difficulties. That's why when providing in-home supportive services, one of our focuses is reducing the risk of falls and helping seniors with day-to-day tasks.
Why Are Seniors Prone to Falls?
As people age, they may start experiencing mobility issues or trouble balancing. These issues can make it more difficult for your loved one to get around the house or make them more likely to fall down the stairs or trip over electrical cords and other environmental hazards.
Additionally, certain chronic illnesses that primarily impact seniors can affect your loved one's mobility. For example, certain medical conditions like multiple sclerosis can cause muscle weakness and make it harder for your loved one to freely move about without some additional support. If your loved one has a chronic condition that impacts their memory or cognition, they may forget tasks that help them take care of themselves, such as taking medication, cleaning up clutter around the house or preparing healthy meals that can help them keep up their muscle strength or energy.
Fall-related injuries can be life-changing for seniors. If your loved one falls, they may end up suffering from a broken bone or hip fracture, meaning they'll need to spend time in the hospital in order to recover. Some injuries may be serious enough that it'll affect their ability to remain independent and live in their own home.
While these issues should be of primary importance to families, they can be successfully addressed with the right care and precautions. Visiting Angels Gastonia can help your loved one stay safe at home through our in-home supportive services.
How Can Balance Care Help My Loved One?
If you're concerned that your senior loved one is at risk for falls in their home, consider balance care services from Visiting Angels Gastonia. Our caregivers focus on reducing risk factors for falls by addressing environmental hazards and encouraging clients to engage in regular physical activity to keep up their strength. Reducing the risk of falls in the home can help prevent fall-related injuries in seniors, long-term hospital stays, difficult rehabilitation and loss of independence.
Our caregivers can help prevent the risk of in-home falls through our in-home supportive services, including:
Light housekeeping to make sure entryways are clear of clutter and assist seniors as they move about their home. This extra helping hand can encourage seniors to remain active and confident
Mobility assistance to prevent the likelihood of loss of balance when going from room to room or tripping on the stairs
Planning and preparing healthy meals to encourage seniors to eat foods that help them stay strong
Medication reminders and monitoring seniors in case they exhibit any side effects that can impact their mobility and balance
Transportation to places like fitness centers and physical therapy facilities
At Visiting Angels Gastonia, our care plans are fully customized, allowing elderly adults in our care to get the services they truly need. Whether your loved one needs in-home supportive services for a few hours during the day or needs a caregiver to assist them at night, we'll be here when they need us most. We also offer 24-hour home care services for elderly adults who need around-the-clock balance care.
If you're worried about fall-related injuries, you can have peace of mind with balance care from Visiting Angels Gastonia.
Call our Gastonia, NC office at 704-825-3350 to learn more about our in-home supportive services and schedule a free consultation.
Serving Gastonia, Cramerton, Kings Mountain, Shelby, Belmont and Surrounding Communities in Gaston and Cleveland Counties
Visiting Angels
GASTONIA, NC
1544 Union Rd Ste B
Gastonia, NC 28054
Phone: 704-825-3350