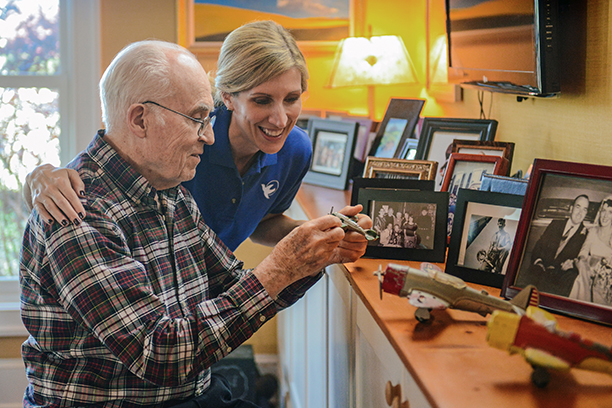 Assisted Living In-Home Care for Seniors in Gastonia, NC
There are many senior care options for aging adults in Gaston and Cleveland Counties. Not too long ago, seniors either relocated to assisted living communities or lived with their adult children. For independent seniors who are active and well enough to remain in their own homes, neither of these options were ideal. Now, with assisted living in-home care from Visiting Angels Gastonia, seniors in Gastonia, Cramerton, Kings Mountain, Shelby, Belmont and surrounding areas in North Carolina can receive the support they need with everyday activities to remain healthy and safe right in the comfort of home.
How Seniors Benefit from Living Independently at Home
Helpful In-Home Senior Care Without the Strict Schedule
With assisted living in-home care from Visiting Angels Gastonia, your senior loved one can remain in their home while receiving professional care and support. Our care coordinators will work with your family and your loved one to create a care plan that meets the level of care they need. We offer a wide range of senior care services, including personal care, companion care, meal preparation, transportation to appointments and recreational activities and so much more.
Unlike nursing homes or assisted living facilities, our caregivers don't force scheduled activities on our senior clients. Your loved one can choose how they wish to spend their day and will receive assistance with Activities of Daily Living (ADLs) to maintain an independent, healthy lifestyle.
"These folks are great. It is really tough for most of us to take care of our parents and grandparents. Let's face it, we are just not trained to do it. Visiting Angels came in to our family when we were at wits end and knew that something had to change. We did not want our father in a nursing home so when we reached out to Visiting Angels, they were the miracle we were looking for. Their employees are well trained and know how to manage elderly people that can be difficult to control. They seamlessly blended into our family and gave us the help and security we needed for our dad. They also managed the billing and insurance interaction with clarity and accuracy. The day our dad passed away, the Visiting Angel on duty stayed with us until the funeral home came to get our dad. Such caring people. We are so thankful for their help."
- Former Client
Flexible Care Plans
Assisted living in-home care is often a good fit for independent seniors who need some help with activities of daily living, such as bathing and grooming, preparing meals and running errands. At Visiting Angels Gastonia, our services can be adjusted as needed.
For seniors with degenerative diseases, such as dementia, or chronic conditions like diabetes, their needs may increase with age. If your loved one would benefit from more long-term care services like memory care or 24-hour care, you can simply reach out to our office in Cramerton, NC and our team will work with you to make any necessary adjustments.
Constant Support and Communication
At Visiting Angels Gastonia, we frequently work with families who themselves live outside of Gaston and Cleveland Counties but who have loved ones in our area. For them, it is essential that they are kept up-to-date on their loved one's well-being, health and happiness.
Once we begin providing assisted living in-home care, we perform regular checks with our caregivers and our senior clients. We will update your family regularly, through in-person meetings or conversations on the phone. We understand that entrusting us with your loved one's care is a serious responsibility – one that we do not take lightly. If you ever have questions or concerns, you can call our office directly to speak with a care coordinator who is familiar with your loved one's care. Our goal is to give you peace of mind knowing your loved one is in capable and caring hands.
If you'd like to learn how assisted living in-home care from Visiting Angels Gastonia can help your senior loved one, call us at 704-825-3350 to schedule a free in-home consultation!
Serving Gastonia, Cramerton, Kings Mountain, Shelby, Belmont and Surrounding Communities in Gaston and Cleveland Counties
Visiting Angels
GASTONIA, NC
1544 Union Rd Ste B
Gastonia, NC 28054
Phone: 704-825-3350