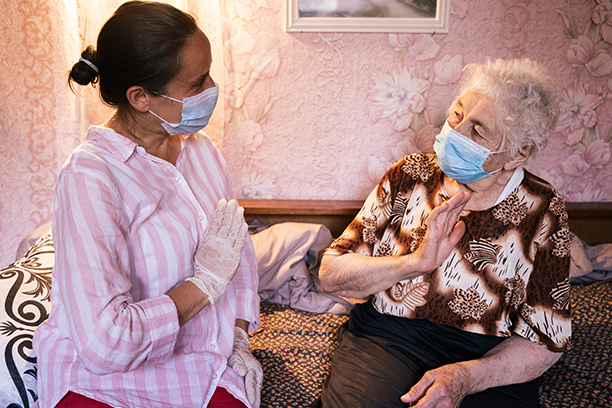 How Our Home Care Solutions Help Seniors in Gastonia, NC and Surrounding Areas
Aging in place is a challenging thing for most seniors to manage. Many struggles with losing their independence and physical mobility due to age-related conditions. Others struggle due to not having the proper availability and support from family members and develop anxiety and depression due to their isolation.
At Visiting Angels Gastonia, we are here to help. We provide quality home care solutions and assist seniors in Gastonia, Cramerton, Kings Mountain, Shelby, Belmont and throughout Gaston and Cleveland Counties both physically and emotionally to enhance their experience aging in place from the comfort of their own home. We give seniors the tools to regain their independence despite their physical limitations.
The Importance of Aging in Place
"I would tell a friend that Visiting Angels will send a caregiver that can meet your needs. Visiting Angels will not send someone just to occupy space. I only have the services one day a week but the caregivers from Visiting Angels have been really good to me in that short time."
- Frances B.
According to studies done by AARP, nearly 90 percent of Americans over the age of 65 would prefer to remain in their own home for as long as possible, which is no surprise given that it is a familiar environment with fond memories of their lives and families. At Visiting Angels Gastonia, we firmly believe that remaining at home provides immense benefits to seniors and are committed to helping as many seniors continue to age in place as possible.
Aging in place provides many different benefits to seniors, one of which is the security and feeling of safety of a familiar and comfortable environment. Our caregivers also provide their unique blend of home care solutions to help seniors develop safe and reliable habits and schedules.
Living at home also offers essential health benefits as well. Illness and diseases spread much more easily in assisted living facilities and as a result, studies have found that seniors who receive in-home senior care services have better health outcomes on average than those who remain in an assisted living facility.
How Home Care Solutions from Visiting Angels Gastonia Can Help
At Visiting Angels Gastonia, we pride ourselves on working directly with families to help them create a unique and fully customized care plan. Our care plans are tailor-fit to the specific schedule and needs of your loved ones. Whether it be helping around the house for a few hours per week or 24-hour care, we are here to help.
Our caregivers are constantly going above and beyond to enrich the lives of their seniors by connecting with them on a personal level through companionship and conversation. Many seniors struggle with anxiety and depression due to prolonged periods of isolation, which is why our caregivers take their responsibility as a companion so seriously. Whether it be sharing stories over a game of cards or even driving to the park and listening to their life story our caregivers are here to help.
If you think that you or a loved one could benefit from our personalized home care solutions, then do not hesitate to contact our Gastonia, NC office at 704-469-4207 today!
Serving Gastonia, Cramerton, Kings Mountain, Shelby, Belmont and Surrounding Communities in Gaston and Cleveland Counties
Visiting Angels
GASTONIA, NORTH CAROLINA
1544 Union Rd Ste B
Gastonia, NC 28054
Phone: 704-469-4207