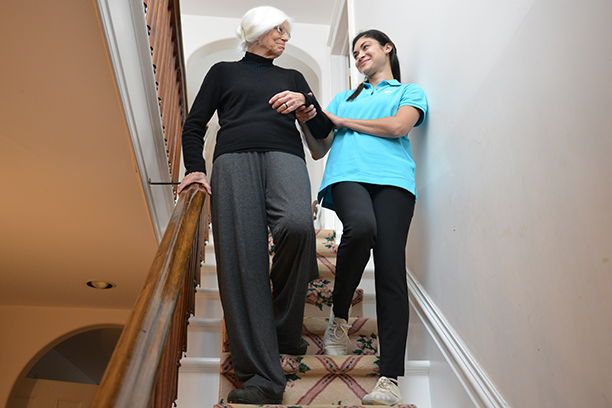 Aid and Attendance Benefits for Senior Veterans in Gastonia, NC and Surrounding Areas
At Visiting Angels Gastonia, we take great pride in providing care for our veterans and their surviving spouses in Gastonia, Cramerton, Kings Mountain, Shelby, Belmont and surrounding areas in North Carolina. Our commitment to their well-being is a way to say thanks and give something back to those selfless seniors who once served our great nation.
It is estimated that one in every three seniors in the United States is a veteran or the surviving spouse of a veteran. Many of those noble men and women who fought for their country may be eligible for a unique benefit program provided by the VA. The program is called "Pension with Aid and Attendance" and it may reimburse funding to its beneficiaries of up to 25,440 dollars a year to help cover various medical expenses and professional care at home.
There are millions of eligible veterans who are unable to pay for in-home care independently and they go without Aid and Attendance simply because they are not aware of the benefit. That's why we provide guidance and assistance to qualifying veterans and their spouses when they wish to apply for Aid and Attendance Benefit through the Department of Veterans Affairs.
Who's Eligible To Receive Aid and Attendance Benefits?
You may be wondering what makes a senior veteran eligible for Aid and Attendance? Aid and Attendance beneficiaries can claim financial support that will cover the costs of their in-home care needs. In most cases, this will cover the care costs entirely, regardless of type of care that is provided or its duration.
Your mom or dad may be eligible for Aid and Attendance benefits if they meet the following conditions:
Being a veteran that ended their active service with an honorable discharge, or being a surviving spouse of such veteran – Obtaining the status of a veteran requires at least 90 consecutive days of military service with at least 1 day served during a time of conflict including WW2, Korean War, Vietnam War, and Gulf War. It is important to note that other war eligibility may be required depending on the time of service.
Veteran or the surviving spouse must have a medical condition which is not related to military service in any way.
Veteran or the surviving spouse must require in-home care assistance with daily activities due to impaired health or other medical problems.
Veteran or the surviving spouse must meet asset requirements based on age and marital status (this excludes home and car).
Veteran or the surviving spouse must meet the Medical Expense-to-Income Ratio.
Veteran or the surviving spouse must receive a medical evaluation from their physician.
If you think your loved one may be an eligible candidate for this benefit, please contact Visiting Angels Gastonia today at 704-469-4207.
Serving Gastonia, Cramerton, Kings Mountain, Shelby, Belmont and Surrounding Communities in Gaston and Cleveland Counties
Visiting Angels
GASTONIA, NC
1544 Union Rd Ste B
Gastonia, NC 28054
Phone: 704-469-4207