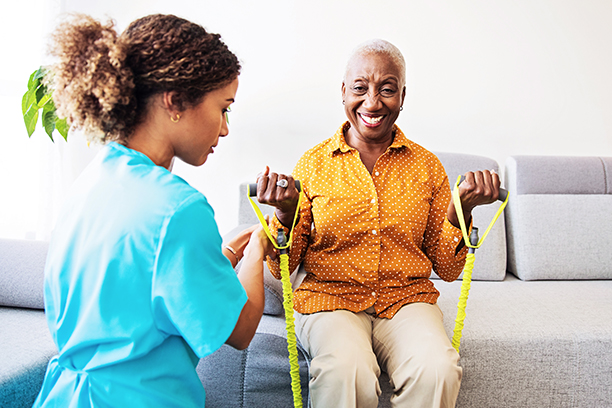 Alzheimer's Disease and Caregivers from Visiting Angels Gastonia
Visiting Angels can help you better understand Alzheimer's disease and how professional Alzheimer's caregivers can help seniors in Cramerton, Gastonia and surrounding areas in NC manage their symptoms
Alzheimer's disease is a progressive, deteriorating, disease that affects the brain. Seniors with Alzheimer's can experience the worsening symptoms over time as they inevitably begin to effect daily life. If you are just learning about this disease and are trying to stay informed or are helping a loved one with Alzheimer's disease, here is some essential information about Alzheimer's disease and how professional in-home care can help seniors in Gastonia and surrounding communities get the support they need
What You Should Know About Alzheimer's Disease
What is Alzheimer's Disease?

Alzheimer's disease impacts the brain for over several years as a progressively degenerative disease.

What is the Difference Between Alzheimer's and Dementia?

Dementia is a term for disorders within the brain that have the symptom of memory loss. Cases of dementia can be Alzheimer's disease, a disease that causes memory loss.

What Increases the Risk for Alzheimer's Disease?

The main risks are due to genetics, older ages, and poor heart health. Making choices such as heavy drinking and smoking, problems sleeping, exposure to air pollution, a history of head trauma, and high stress can all increase your risk.

What are the Symptoms?

Troubles problem solving.
Short-term and long-term memory loss.
Losing or misplacing items.
Forgetting words.
Change in mood or behavior.
Depression, irritable and irrational behavior.

Is there a Cure?
There is no known cure at this time. There is research on what might slow the effects and these choices can be decreasing stress, practicing healthy sleep habits and more.
There is a lot to take in when it comes to Alzheimer's disease. Be sure to surround yourself and your loved one with a support system at this time.
It's also a good idea to look into your options for professional Alzheimer's care. For example, Alzheimer's caregivers from Visiting Angels Gastonia are a great resource to make sure your senior loved one has the assistance they need. Our Alzheimer's caregivers at Visiting Angels Gastonia are ready to go above and beyond, providing your loved one with exactly what they need from mobility support, cognitive exercises, medication reminders and more.
Contact Visiting Angels Gastonia to Learn About Our Options for Alzheimer's Care
Visiting Angels Gastonia is here to help you and your loved one today. Call our Cramerton, NC office at 704-825-3350 to schedule an in-home consultation to discuss how our Alzheimer's caregivers can help your loved one and your family.
Serving Gastonia, Cramerton, Kings Mountain, Shelby, Belmont and Surrounding Communities in Gaston and Cleveland Counties
Visiting Angels
GASTONIA, NC
1544 Union Rd Ste B
Gastonia, NC 28054
Phone: 704-825-3350