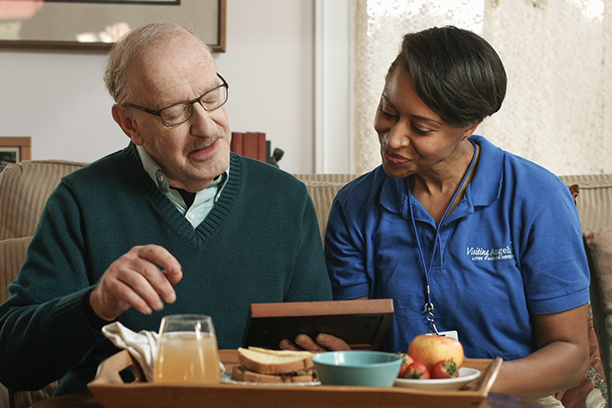 Meal Planning Support for Older Adults in Gastonia, NC and Surrounding Areas
Our senior caregivers can help your elderly loved one in Gastonia, Cramerton, Shelby and Kings Mountain, NC, eat healthier through meal planning and preparation
Unfortunately, there are a wide range of reasons that an older adult may be malnourished, eating too much or simply eating the wrong things for their age and considering their chronic conditions. We will get to these later, but first we wanted to stress the fact that with proper in-home care, all older adults can maintain their independence for a long time. One of the key aspects of maintaining one's independence is proper meal preparation and planning.
At Visiting Angels, we help plan and prepare meals for elderly adults throughout the Gastonia area, including Cramerton, Kings Mountain, Shelby, Mount Holly, Belmont, Lincolnton and surrounding communities in North Carolina. Our senior caregivers are here to help your loved one stay healthy and comfortable in their own home.
The Importance of Healthy Eating for Seniors
A major reason that individuals over the age of 65 have trouble eating a proper diet is the fact that they are not as strong as they used to be. As older adults struggle to take care of their daily needs, eating a balanced diet may simply fall to the wayside. At the same time, they face a wide range of chronic conditions that may make eating rather difficult. For example, if your loved one is undergoing chemo, they may get nauseous and eating very rich, spicy foods may be out of the question, even if that's the only thing available. They may instead choose to simply not eat. Certain medications also have the effect of lowering one's appetite.
If your senior loved one is aware of the issues they are facing, help from a home care professional from Visiting Angels Gastonia can certainly begin to plan their meals well and avoid malnutrition or excess weight gain. As you can imagine, this can have an incredibly positive impact on your loved one's overall well-being. Proper nutrition can give your loved one more energy, result in a positive attitude, and even improve certain health conditions older adults often deal with like diabetes.
With proper in-home care from Visiting Angels Gastonia, your loved one can get all their groceries when they need them. A senior caregiver can sit down with your loved one to create a meal plan that is in line with doctor's orders. They can then go shopping for your loved one, put away the groceries once they have bought them and even prepare meals for your loved one.
To find out more about how our senior caregivers can help your loved one, please call our Cramerton, NC office today at 704-469-4207.
Serving Gastonia, Cramerton, Kings Mountain, Shelby, Belmont and Surrounding Communities in Gaston and Cleveland Counties
Visiting Angels GASTONIA, NORTH CAROLINA
102 Hidden Pastures Dr #202
Cramerton, NC 28032
Phone: 704-469-4207