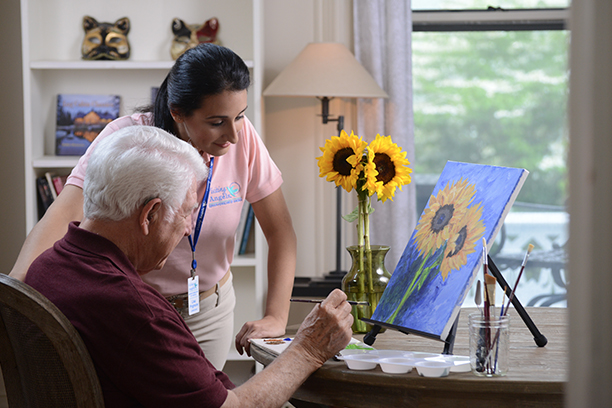 Meal Preparation for Seniors in Gastonia, NC and Surrounding Areas
There are many reasons why seniors should stick to a healthy diet. Although it's important for people of all ages to think about the food they eat, it's especially critical for seniors to consider meals and snacks that can help them get the nutrients they need. Unfortunately, there are so many reasons that an older adult may be malnourished, eat too much or simply eat the wrong things for their age and considering their chronic conditions. However, with help from a professional senior caregiver, all older adults can get the support they need toward sticking to a healthy diet, which can help them remain independent for much longer.
At Visiting Angels, we help plan and prepare delicious and nutritious meals for elderly adults throughout the Gastonia area, including Cramerton, Kings Mountain, Shelby, Mount Holly, Belmont, Lincolnton and surrounding communities in North Carolina. Our senior caregivers are here to help your loved one stay healthy and comfortable in their own home by assisting them with planning meals, preparing healthy meals and snacks, grocery shopping and so much more. With our personalized, one-on-one approach to home care, you can have peace of mind knowing your loved one is in capable and caring hands.
Why Do Seniors Have Trouble with Eating Healthy?
Here are some reasons why seniors can have trouble with sticking to a healthy diet:
Age-related issues: A major reason that individuals over the age of 65 have trouble eating a proper diet is the fact that they are not as strong as they used to be. Your loved one may have trouble accessing certain kitchen tools and appliances due to mobility issues or may not have enough energy to prepare something healthy. As older adults struggle to take care of their daily needs, eating a balanced diet may simply fall to the wayside.


Chronic conditions: Seniors can also face a wide range of medical conditions that may make healthy eating, and eating in general, rather difficult. Your loved one may simply choose to heat up a frozen meal instead of preparing a whole meal from scratch. Many easy-to-make meals contain high levels of sodium and cholesterol, which can negatively impact a senior's health.


Side effects of medications: Certain medications also have the effect of lowering a senior's appetite or make them too exhausted to prepare an entire meal. For example, if your loved one is undergoing chemo, they may get nauseous and eating very rich, spicy foods may be out of the question, even if that's the only thing available. They may instead choose to simply not eat.
How Can Meal Preparation Services from Visiting Angels Gastonia Help My Loved One?
If your senior loved one is aware of the issues they are facing, senior caregivers from Visiting Angels Gastonia can help them stick to a well-balanced diet. As you can imagine, this can have an incredibly positive impact on your loved one's overall quality of life. Proper nutrition can give your loved one more energy, result in a positive attitude and even improve certain health conditions older adults often deal with like diabetes.
Here are some of the ways our senior caregivers can help your loved one:
Planning healthy options for breakfast, lunch and dinner throughout the week
Preparing healthy meals and snacks while taking dietary restrictions into account
Feeding assistance for seniors with Parkinson's and other conditions that can impact their fine motor skills
Providing meaningful companionship during mealtimes
Washing and putting away dishes after mealtime
Setting the table
Cleaning countertops
Helping with creating a shopping list and grocery shopping
Picking up online grocery orders or handling deliveries
At Visiting Angels Gastonia, we specialize in creating customized care plans, so your loved one will get the care they truly need. We will work with you to design a care plan based on your loved one's needs and schedule, so they can have help with eating healthy while continuing to follow their everyday routine.
To find out more about how our senior caregivers can help your loved one, please call our Gastonia, NC office today at 704-825-3350.
Serving Gastonia, Cramerton, Kings Mountain, Shelby, Belmont and Surrounding Communities in Gaston and Cleveland Counties
Visiting Angels
GASTONIA, NC
1544 Union Rd Ste B
Gastonia, NC 28054
Phone: 704-825-3350