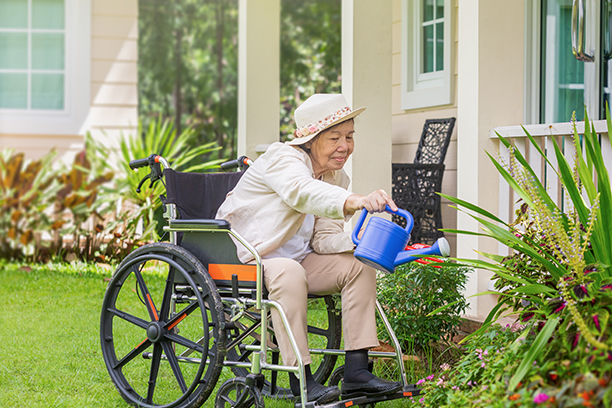 Respite Care in Knoxville
Do you care for a loved one but feel you have a lack of time and space to take care of your own needs? You don't have to give up your role as a family caregiver in order to find relief from the demanding nature of your many responsibilities. Instead, you can ask for help from a local respite care provider such as Visiting Angels® Knoxville. Our team understands that caregiving is hard work, especially when the person you're caring for is someone close to you. They'll help make sure you have time off when you need it so you can regain your balance.
What is Respite Care?
Respite care can take different forms for different families. The main goal of this care type is to give family caregivers support that prevents them from suffering the consequences of physical, mental, and emotional burnout. Some family caregivers in the Knoxville area want a professional care provider to step in for a few hours here and there, while others ask for help so they can go on vacation. We focus on making our scheduling options as flexible as possible so we can meet the diverse needs of families in the area.
How Respite Care Helps Seniors in Knoxville
Our caregivers can perform the same kinds of activities that you regularly do to care for your loved one. This means that in addition to helping your loved one manage their daily routines and personal care tasks, we can also offer the companionship, conversation, and emotional support they may be craving. Whether your loved one has simple or more advanced care needs, we can match them with a professional care provider who is able to deliver the level of support they require to remain comfortable and content while you're gone.
Types of assistance common with this form of care include the following:
Help with chores and cooking
Support with bathing and getting dressed
Reminders about taking medications
Walking assistance and mobility support
Socialization and participation in hobbies
Getting Started with Respite Care at Visiting Angels Knoxville
It's important to reach out for help before you feel overwhelmed by your loved one's needs. We encourage you to learn more about how we can assist you by contacting our local care agency today. We'll arrange a free consultation to answer all of your questions about setting up care that makes a difference in your life.
Reach out to Visiting Angels Knoxville today to book your respite care consultation in Knoxville, Concord Farragut, Concord, Lenoir City, Loudon, Oak Ridge, or a nearby community.
Serving the Greater Knoxville Area including Anderson, Loudon & Roane Counties, TN
Visiting Angels
KNOXVILLE, TN
106 Debusk Ln
Knoxville, TN 37922
Phone: 865-531-4833
Fax: 865-531-4835