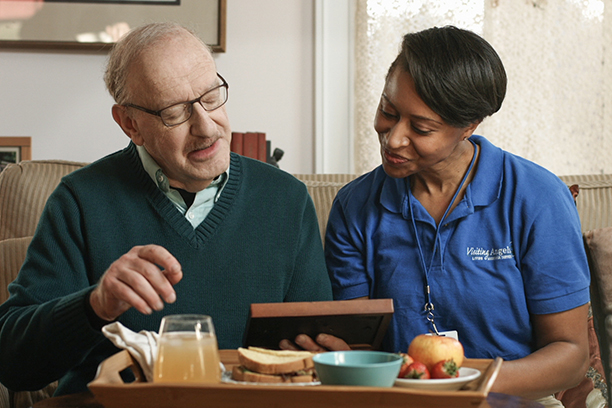 24 Hour Senior Care in Little Rock
Visiting Angels provides professional 24 hour senior care services to residents living in Little Rock and Surrounding Areas
Growing old is one of the hardest things we have to do in life. Many seniors struggle with their loss of mobility and independence as a result of their age-related conditions. In most cases, family members try to help when they can but it is often difficult to balance the challenges and schedules of daily work, family time, and other responsibilities with a loved one who may need more time and attention.
Visiting Angels of Little Rock provides personal and enriching senior care services to help your loved ones regain their independence while continuing to live at home. We believe that living at home is an invaluable experience that all seniors should have the option to pursue, regardless of condition or life expectancy. Our caregivers go above and beyond to make this a possibility.
Our Caregivers
At Visiting Angels of Little Rock, our team of highly trained and compassionate caregivers are able to provide both physical and emotional support to enable your loved ones to gracefully age in place. Our caregivers can assist with daily household tasks such as cooking, cleaning and grocery shopping and can even assist with more personal tasks like bathing and clothing their senior companions.
We understand that living alone can also be emotionally challenging and if seniors do not get enough social interaction it can have negative impacts on their overall health. Our caregivers connect with their seniors on a more personal level by providing comfort and support through meaningful companionship and conversation to keep them physically, mentally, and emotionally engaged and enriched.
Custom and Flexible Senior Care Plans
At Visiting Angels of Little Rock, our care plans are fully customizable so that you can rest assured that your loved one is getting the level of care that they need. We help families design a schedule that works for their preferences, whether it be for only a few hours per week or 24/7 personalized home care. All of our senior care plans are also highly flexible because we understand that the needs of our loved ones can change at any moment.
If you think that you or a loved one could benefit from the senior care services that our compassionate caregivers provide then do not hesitate to reach out today!
Custom and Flexible Senior Care Plans
Schedule your FREE in-home assessment today by contacting Visiting Angels of Little Rock at (501) 225-5100.
Serving Little Rock, North Little Rock, Maumelle, Sherwood, Jacksonville AR
Visiting Angels
LITTLE ROCK, AR
14 Office Park Dr #102
Little Rock, AR 72211
Phone: 501-225-5100
Fax: 501-225-5102