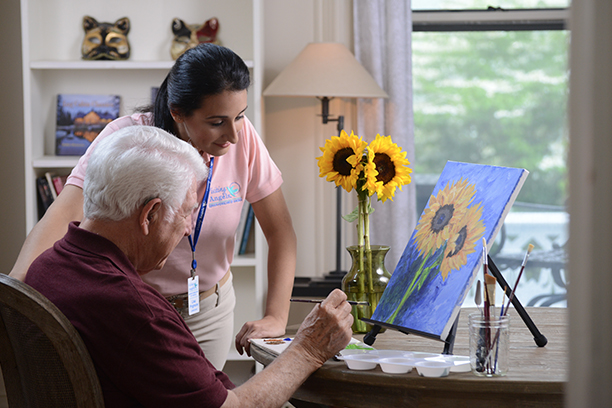 Overnight Personal Care Services for Seniors in and Around Naples, FL
When an elderly family member begins to need in-home care, they may only need help with daily tasks and errands for a few hours during the day. However, as time goes on, your loved one may need increasingly extensive, around-the-clock care. Many families in Collier County are concerned about finding an experienced and reliable caregiver to help a loved one throughout the night. People over the age of 65 who have major health issues, such as Alzheimer's or Parkinson's disease, or who have recently been sick or injured may find it quite beneficial to have overnight care provided to them at home.
Visiting Angels Naples can provide overnight personal care services for your senior loved one. Seniors in Naples, Marco Island and the surrounding areas in Florida have relied on our overnight companion services for many years. Helping our clients enjoy a good night's sleep is one of our top priorities, which is why we provide personalized home care options, even at night.
Why Seniors Choose Visiting Angels Naples for In-Home Care
When you choose Visiting Angels Naples for overnight personal care services, you're choosing a home care agency that will put the welfare of your loved one first. In order to ensure that the care we provide is tailored to the needs of each and every one of our clients, we develop customized care plans. Our goal is to meet the needs of your loved one while giving them the support they need to age in place. Our care coordinators will work with you to create a personalized care plan that includes only the services your loved one needs in order to remain safe and comfortable at night.
Our caregivers can help your loved one overnight by:
Reminding them to take their medication
Helping them bathe, put on their pajamas or use the bathroom
Getting a glass of water or fixing a quick, healthy snack before bed
Providing companionship before they go to sleep
Helping them get from room to room
And so much more
When we help seniors with overnight personal care services, our goal is to make sure they have the help they need to stay in their own homes as long as possible. When you choose Visiting Angels Naples, you can rest easy knowing that your loved one is in the best possible care.
How Seniors Benefit from Overnight Personal Care Services
Overnight Care for Seniors with Dementia
Simple chores like turning off the oven or locking the door before going to bed might become challenging for someone with dementia because their memory is impaired. Our caregivers can help your loved one develop a bedtime routine and remind them of important tasks to do before they go to bed. Restlessness and other symptoms, such as roaming, are common in people with dementia. If someone you care about often walks around at night, they could get hurt. As part of our overnight personal care services, our caregivers will keep your loved one from wandering about the house at night. In addition, we give one-on-one support and companionship, so your loved one will always have a friendly caregiver to keep them company.
Overnight Care for Seniors Recovering from Injury or Surgery
For seniors who have just been discharged from the hospital after surgery or a serious injury, everyday tasks may be too difficult for them to do on their own. They will require help. Taking a bath or doing other self-care activities before bed is easy with overnight personal care services from Visiting Angels Naples. Our caregivers can help your loved one as they walk from room to room or up and down the stairs in a safe and efficient way during the night. They can also ensure that your loved one does not fall, which might aggravate their injuries or cause complications following surgery.
Overnight Care for Seniors with Chronic Illnesses
Certain chronic conditions may make it harder for your loved one to carry out their everyday routines. With our overnight personal care services, our caregivers can ensure that your loved one gets the support they need, whether it is to take their medication before bed or to change their bedsheets in the case of an accident. If any of your loved one's symptoms start to disturb their usual sleep pattern, our caregivers will let you know.
Serving Naples, Marco Island, and throughout Collier County in Florida
Visiting Angels
NAPLES, FL
1016 Collier Center Way #102
Naples, FL 34110
Phone: 239-561-7600