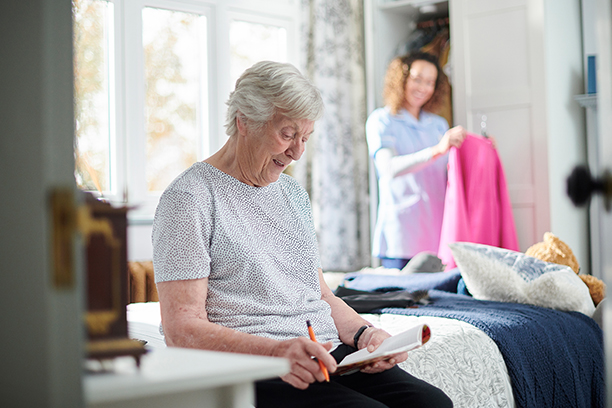 Recovery Care at Home for Seniors in and Around Naples, FL
When seniors get home from the hospital after having surgery, many will most likely need some kind of aftercare. Their doctor may have told them to avoid doing simple physical tasks like cleaning the house or going up and down the stairs without help. If you're worried about the health of a loved one while they're getting better, the personal care providers from Visiting Angels Naples can help with their recovery process.
The Benefit of Home Care During Post-Surgery Recovery
After undergoing surgery, your loved one's medical team probably gave them some instructions to follow while they are getting better. For example, your loved one may need help getting around the house or with taking care of their personal hygiene. But older people who live on their own may find it hard to follow these recommendations, which can cause problems and make it take longer to get better. If you need more help making sure that your loved one recovers well from surgery, the home care professionals at Visiting Angels Naples can help.
Our personal care providers can help seniors in Naples, Marco Island and throughout Collier County, FL safely recover at home from medical procedures like joint replacement surgery. For older people, recovering from surgery at home has become a popular choice. In fact, a study done by the Rothman Institute at the Thomas Jefferson University Medical School in Philadelphia found that about 90 percent of older adults who have surgery on their hips or knees go straight home instead of going to a rehabilitation center. With the help of our professional caregivers, your loved one can get help with daily tasks and be around caring people who will help them get better.
Why Seniors Choose Personal Care Providers from Visiting Angels Naples
One of the main reasons families in Collier County choose Visiting Angels Naples for post-surgery care at home is that we focus on giving each senior in our care personalized home care solutions. We will make a care plan for your loved one based on the services they need and what works best with their schedule. We can help your loved one with Activities of Daily Living (ADLs), be a friend and stay in touch with your family if we notice any changes in your loved one's behavior or overall health.
Our goal is to make sure that our clients can stay at home as long as they want and don't have to be readmitted to the hospital. With help from our dedicated, experienced and compassionate caregivers, you can rest easy knowing that your loved one is in good hands.
Here are some ways our home care providers help seniors during recovery:
Fall Prevention
While recovering from surgery, it's especially important that your loved one doesn't lose their balance and fall. So, Visiting Angels Naples offers many ways to keep seniors from falling. We can help with light housekeeping by clearing paths of clutter, making sure your loved one doesn't trip on throw rugs or other floor coverings, helping them get from room to room and a lot more.
Personal Care
Our personal care providers can help your loved one take a bath or shower, shave, brush their teeth, get dressed and do a lot more. This is very helpful for older people who can't move around much while they're recovering from surgery.
Meal Preparation
Your loved one may have trouble preparing meals on their own or going grocery shopping while they are healing from surgery. Also, depending on the procedure, your loved one may need to stay away from certain foods or eat healthy foods to get the nutrients they need to stay strong. So, at Visiting Angels Naples, we help elderly adults plan and prepare meals, as well as help with grocery shopping and picking up online grocery orders. We also help seniors who have trouble using their fine motor skills to eat.
Medication Reminders
No matter if your loved one is taking painkillers while they are recovering or if they take medicine every day to treat a chronic illness, our personal care providers can remind your loved one to take their medicine when they need to and look for signs that your loved one is experiencing any side effects.
Overnight Care
We can provide your loved one with the home care services they need during the day, and we can also make sure they are safe and comfortable at night. We can help your loved one set up a relaxing routine so they can sleep better and help them get out of bed if they need to go to the bathroom. We can also give them meaningful company so they don't feel alone.
Call our Naples, FL office at 239-561-7600 to learn how our personal care providers can help your loved one recover at home!
Serving Naples, Marco Island, and throughout Collier County in Florida
Visiting Angels
NAPLES, FL
999 Vanderbilt Beach Road #200
Naples, FL 34108
Phone: 239-561-7600