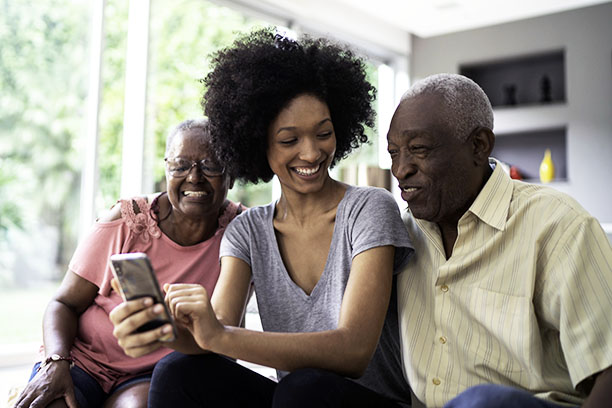 Social Care and Other Home Care Solutions for Seniors in Naples, FL and Surrounding Areas
At Visiting Angels Naples, we understand that providing exceptional home care solutions in Naples, Marco Island and throughout Collier County, FL requires us to consider not just physical health, but emotional and social health. As people age, they can begin to feel depressed or lonely, especially if they are living alone. However, it can be difficult for seniors to spend quality time with family, friends and other loved ones. Age-related mobility issues can make it difficult to leave the home, or cognitive issues can make seniors forget a planned social outing. Furthermore, chronic medical issues like low vision can limit your loved one's ability to drive to a loved one's home to hang out.
With our Social Care program, our caregivers can help seniors stay connected to their friends and families through social media platforms like Skype and Facebook as well as apps like FaceTime.
How the Social Care Program Can Help Your Loved One
For people who didn't grow up in the world of smartphones and lightning-fast computers, figuring out technology can be difficult. Adjusting to the digital social realm can take some time and a lot of explaining. However, studies have shown that surfing the web and staying connected to friends and family through social media platforms can reduce depression in seniors, improve working memory skills and improve overall moods.
For example, did you know that:
Surfing the internet can reduce depression in Seniors by 20 percent.*

A University of Arizona study finds seniors who use Facebook showed a 25 percent improvement in mental "updating" skills - essentially improving their working memory.

Another study shows seniors who visit social networking sites like Facebook have a positive emotional experience when measured by breathing rates, brain stimulation and pupil dilation.**
With the Social Care program from Visiting Angels Naples, seniors can learn how to use a cell phone, create a Facebook page and interact with those they love, log in to accounts, shop online, text, email, Skype, FaceTime and look up information on search engines. Learning these tasks can drastically improve your loved one's mood and benefit their overall mental health. With our home care solutions, your loved one can easily stay in touch with the people they care about without needing to worry about logistics.
To learn more about our Social Care program and other home care solutions, call our Naples, FL office at 239-561-7600 today.
* Washington, D.C. based Phoenix Center
** Journal Cyberpsychology, Behavior, and Social Networking
Serving Naples, Marco Island, and throughout Collier County in Florida
Visiting Angels
NAPLES, FL
1016 Collier Center Way #102
Naples, FL 34110
Phone: 239-561-7600