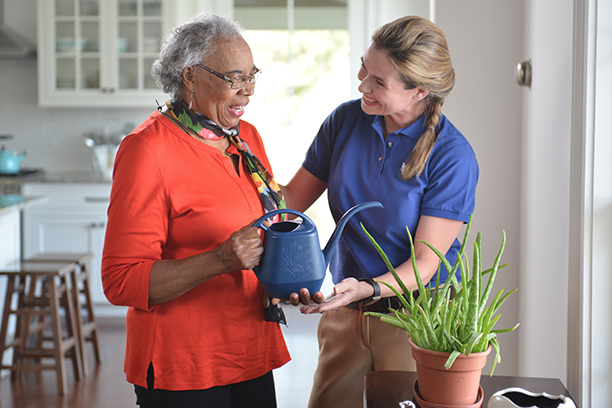 Trusted and Experienced Caregivers from Visiting Angels Nashville
Our dedicated and experienced caregivers are the heart of the Visiting Angels experience in Nashville, Franklin, Brentwood, Belle Meade, Green Hills and nearby cities in Tennessee
Finding a home care provider to satisfy your elder family member's unique needs is your top priority. You deserve a professional, well-trained professional experienced in providing in-home senior care. Visiting Angels® Nashville utilizes a comprehensive personalized screening system designed to maximize your confidence and peace of mind. Plus, you can help select the care professional to fit your circumstances. We want to ensure that your loved one's care provider can assist with anything they need so they can continue to live in their own home for as long as they wish.
Vetted Caregivers with Years of Experience
At Visiting Angels® Nashville, we don't believe in "on the job training." We recruit professionals with strong senior home care experience and certified training program credentials. Our staff has the knowledge to provide assistance with personal care, hygiene and many additional services. We are proud of our employees' longevity—many have worked with us for years!
The Screening Process
Visiting Angels® Nashville performs multiple interviews with each prospective candidate prior to hiring them. We also obtain references from reliable sources such as previous clients, agencies, healthcare institutions, certification training schools and volunteer organizations before a care provider is referred to a client.
The Perfect Match
We will work closely with you and your family to find the care provider with the experience to put you at ease. At Visiting Angels® Nashville, we'll work to find an in-home care provider to satisfy your loved one's unique physical, social and emotional needs. We consider several factors when making the match: skills and experience; an approach that fits your loved one's personality and demeanor; and availability that fits your schedule.
When possible, you'll have the opportunity to interview the care provider we match with your loved one, before services begin. With our Select Your Caregiver program, you can contact us if the match does not meet your expectations for any reason, at any time. In turn, we will recommend a more suitable replacement.
Status Updates
We're with you every step of the way. To ensure each client receives high-quality, compassionate in-home care, we continuously monitor our care providers through personal contact. We also check in with our clients on a regular basis through phone calls and in-person visits.
If you live in Nashville, Franklin, Brentwood, Belle Meade, Green Hills or any of the surrounding areas in Tennessee, call our Brentwood, TN office today at 615-697-4705 to learn how our caregivers can help your loved one!
Serving Nashville, Brentwood, Franklin, Belle Meade, Green Hills and surrounding areas in Tennessee
Visiting Angels NASHVILLE, TN
750 Old Hickory Blvd Bldg 2 #150-120
Brentwood, TN 37027
Phone: 615-697-4705