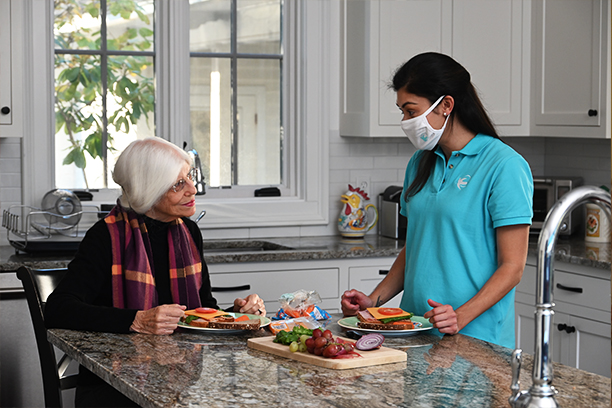 Long-Distance Caregiving from Dedicated In-Home Caregivers at Visiting Angels Nashville
If you live outside the Nashville, TN area, you can count on in-home caregivers from Visiting Angels to provide the care and support your loved one needs
Helping your loved one get started with senior care can often be a complicated process, especially if your loved one lives far away. For Visiting Angels Nashville, distance is not a problem. We can work with seniors and their families even if they are hundreds of miles apart.
At Visiting Angels Nashville, we are dedicated to providing families peace of mind by providing exceptional in-home caregivers to their senior loved ones. With our services, your loved one will always have the care they need in their own homes.
What Should I Expect with Long-Distance Care from Visiting Angels Nashville?
When your loved one starts to experience age-related challenges in their home, you probably find yourself frequently worrying about their safety. However, living outside of the Nashville area or even outside the state can make it difficult for you to be there for your loved one. Fortunately, with in-home senior care from Visiting Angels Nashville, you can watch your worries disappear as we focus on improving your loved one's quality of life.
Our professional and dedicated in-home caregivers can provide your loved one with the physical, social and emotional support they need to live a healthy and happy life throughout their golden years.
Here are the steps we follow when setting up care for seniors with long-distance care:
We discuss our senior care services with you over the phone to answer your questions.

We talk to other family members who will be involved with your loved one's care.

We will conduct a free in-home consultation at your loved one's home. During this consultation, we get to know your loved one, their concerns and their care needs.

After the consultation, we create a care plan based on the information your family and your loved one provided.

Once the care plan is approved by you and your loved one, we match your loved one with a caregiver who has the skills and personality needed to support your loved one. You can always request a new caregiver if your loved one is not satisfied with our selection.
What We Do Once Care Begins
At Visiting Angels Nashville, we continue working and communicating with families once we begin providing care for seniors. We understand that you always want to stay updated regarding your loved one's well-being, which is why we are committed to maintaining ongoing communication with you and your family. If your loved one's condition changes suddenly or over time, we will notify you and your family immediately. Even when our office is closed, our after-hours phone line is always available. If you are concerned about your loved one or if there is an emergency, we are always easy to reach.
Our team always makes sure our in-home caregivers are providing exceptional care. We regularly will check in on your loved one and their caregiver in person or over the phone. That way, you'll have peace of mind knowing your loved one is always in caring and capable hands.
Get Started with Visiting Angels Nashville
If you would like to learn more about our long-distance care services and how our in-home caregivers can help your loved one, contact our Brentwood, TN office today at 615-697-4705 and ask how Visiting Angels Nashville can help.
Serving Nashville, Brentwood, Franklin, Belle Meade, Green Hills and surrounding areas in Tennessee
Visiting Angels NASHVILLE, TN
750 Old Hickory Blvd Bldg 2 #150-120
Brentwood, TN 37027
Phone: 615-697-4705