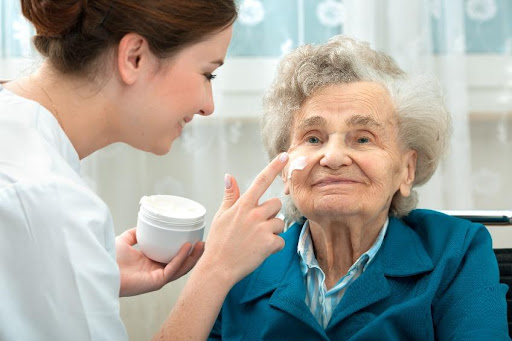 Improving Dry Skin in the Winter
Midwest winters can bring a lot of baggage, one of which is dry skin, making your skin look rough, flaky, or scaly. While often temporary and seasonal, dry skin can feel like a nuisance, and taking the proper precautions to prevent and treat dry skin can keep your skin feeling soft and moisturized all year round.
The effects of dry skin
Everyone experiences dry skin, but some seniors develop dry skin patches throughout their bodies. These dry skin patches can feel itchy and irritated, leading to scratching and continued discomfort. Most cases of dry skin are harmless and can cure themselves, but if you're experiencing pain, redness, or swelling, especially for more than a few days, you should speak with a dermatologist. In some instances, dry skin is a symptom of an underlying condition. The scratching and irritation of dry skin can also cause cuts, which may bleed or cause infection.
Tips to improve your dry skin
Dry skin is common and almost inevitable, but there are steps you can take to reduce dry skin and the discomfort it may cause significantly.
Moisturize
One of the best treatments for dry skin is to keep your skin moisturized. The best time to apply moisturizer is right after the shower to seal water into your skin's protective barrier to keep it healthy. During the winter, you should also use moisturizer throughout the day, especially in areas exposed to the elements, such as your hands and face.
Stay hydrated
Drinking water keeps your skin hydrated and healthy. Make sure to drink plenty of water throughout the day and limit beverages that may dehydrate you, like coffee and alcohol.
Protect your skin outside
Cover as much of your skin as possible when you're outside. Even if you're only outside for a few minutes, wear a proper coat, gloves, boots, and a hat. The cold air and wind can dry the skin, causing redness, itchiness, and irritation.
Use fragrance-free products
Lotions and body washes with unnatural fragrances often contain many chemicals and synthetic ingredients that could irritate and dry out the skin. When shopping for skincare, try to find products made with all-natural ingredients or at least find fragrance-free options.
Limit your time in the shower
Taking a long, hot shower on a cold day can feel amazing, but staying in the shower for more than 10 minutes can significantly dry your skin and cause further irritation. Try to limit your showers to five or 10 minutes, and moisturize immediately to keep your skin feeling healthy.
Use a humidifier
You can keep moisture in the air of your home with humidifiers. The air dries out in the winter, and dry air can lead to dry skin. Depending on the size of your house, a single humidifier may work, or you may want to consider placing one in each of your most used rooms. Ensure your humidifier is in a room corner or on a table, so it doesn't become a fall hazard.
How Visiting Angels can help
If you're an older adult who needs assistance caring for your skin, the team at Visiting Angels is happy to help. Our team of compassionate caregivers can help you with bathing and personal grooming, light housekeeping, meal preparation, mobility assistance, and more.
Our Mentor office serves those in Lake, Geauga, and Northeast Cuyahoga counties in Ohio. If you want to learn more about our services or schedule a complimentary consultation, send us a message or call 440-974-0869.