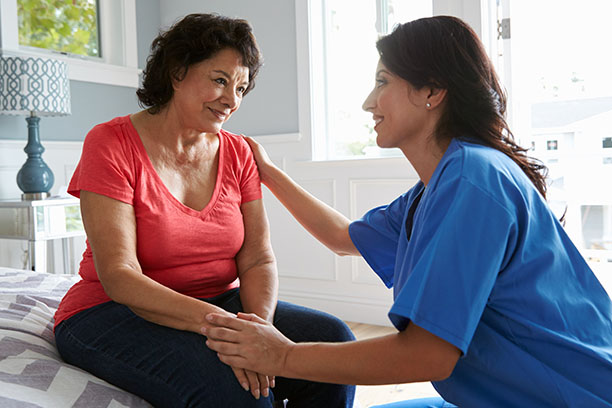 Dementia Care Services in Mentor
Get In-Home Dementia Care Services
If you have a loved one who has been diagnosed with dementia or Alzheimer's, you may be wondering how best to help them. With dementia care services from Visiting Angels Mentor, you don't have to wonder any longer. We provide specialized in-home senior support to those dealing with dementia so they can enjoy an independent life in the comfort of their own home.
With our dementia care services, we have locally based caregivers in Mentor, Mentor on the Lake, Perry, Concord Township, Chesterland, Fairport Harbor, Wickliffe, Painesville, and Waite Hill. To set up a care consultation, simply contact our office today.
Dementia Care Services On Your Schedule
When it comes to dementia care, getting the right care at the right time is imperative. That's why Visiting Angels Mentor always customizes our dementia care services. We'll create a care plan that is designed specifically for your loved one's needs, whether they need simple help around the home or more advanced support with bathing, cleaning, and walking.
We'll also tailor our schedule to suit your loved one so they can get the care they need at all times. If they require additional support during the cold winter months or assistance on weekends and evenings, they will have it. We know that your loved one's needs may quickly change. That's why our care plans are highly flexible and easy to update. That way, we can always provide support for your loved one, when and where they need it.
Our Compassionate Caregivers in Mentor
The right kind of care isn't enough – your loved one also needs the right caregiver. At Visiting Angels Mentor, our dementia care services match your loved one to a care specialist who's right for them. We're proud of our compassionate, dedicated caregivers who are committed to our senior community. We've hand-picked and vetted exceptional local care specialists who have the knowledge and empathy to provide quality in-home dementia care. For those who deal with dementia, it's not just important to have someone who can provide daily assistance with physical tasks. It's also important to have someone who can help them through moments of anxiety or depression and can provide friendly conversation, too. At Visiting Angels Mentor, that's what our extraordinary caregivers do, every single day.
We're here to help. To set up an in-home consultation for dementia care services, contact Visiting Angels Mentor today.
Not all services available at all locations. Contact your local agency for details.
Serving Lake, Geauga, and Northeast Cuyahoga Counties, Ohio
Visiting Angels
NORTHEAST OH
8451 Mentor Ave
Mentor, OH 44060
Phone: 440-974-0869
Fax: 866-257-1675