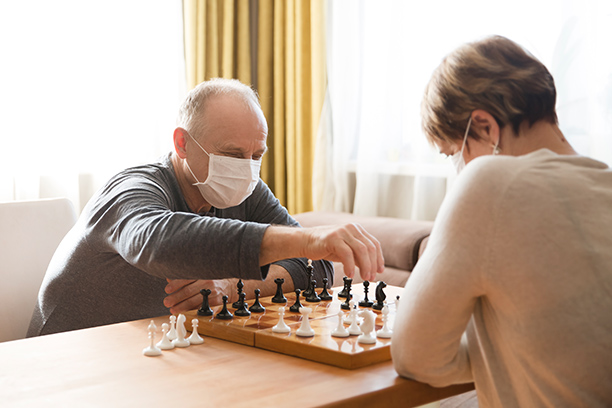 Elder Care for a Loved One in Mentor
Seeing the effects of age on a parent or loved one can be heartbreaking. After years of depending on Mom for support and care, you may not want to acknowledge that now she's depending on you more and more. What might have started with you stopping by the grocery store to pick up a few essentials for a parent, is now a routine, and visits are now spent vacuuming and switching laundry rather than spending time with your loved one. You're suddenly providing elder care to your loved one in the Mentor area, and you're at risk of burning out. That's where Visiting Angels® Mentor can step in.
Without reliable support when providing elder care, caregivers in the Mentor area can suffer a range of health-related issues including depression, pain, and loss of sleep. Additionally, attempting to be the sole provider of elder care for your Mentor-area loved one can put a strain on your relationship and deprive your loved one of the care they need.
While it may be difficult for you to accept that your loved one needs assistance from a professional elder care provider, such as Visiting Angels Mentor, this reality may be even harder to accept for your loved one. They may be worried about maintaining their independence, and about inviting a stranger into their home.
When speaking with your loved one about elder care in Mentor, it's important to remember to be patient. One discussion does not need to resolve everything, and it may take time for your loved one to get used to the idea of in home care. Additionally, it may be helpful to look for outside support when speaking with your loved one. The support of a spouse, doctor, or family friend, can be extremely valuable in these situations.
Supportive Elder Care from Visiting Angels Mentor
At Visiting Angels Mentor, we understand that the transition to working with an elder care provider can be challenging, but we're here to guide you through every stage of setting up care. Our care starts with a free consultation in the comfort of your loved one's home. There, we will provide answers to questions and concerns addressed to make sure your loved one has the exact elder care they need to live safely at home.
Our elder care services are available to seniors in Concord Township, Eastlake, Painesville, Wickliffe, Mentor, Willoughby, Timberlake, Willowick, and throughout the surrounding areas. Contact Visiting Angels Mentor today to learn more about how we can help your loved one.
Serving Lake, Geauga, and Northeast Cuyahoga Counties, Ohio
Visiting Angels
NORTHEAST OHIO
8451 Mentor Ave
Mentor, OH 44060
Phone: 440-974-0869
Fax: 866-257-1675