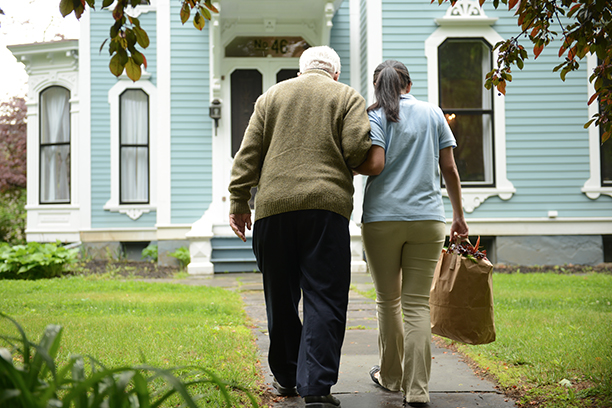 Alzheimer's Care Services: Recognizing Early Symptoms and When to Seek Help
There are several early warning signs of Alzheimer's that may be a signal for family members to seek out help for a loved one. Perhaps the most commonly known symptom of Alzheimer's disease is memory loss that disrupts aspects of daily life. If your loved one forgets new information, important dates, or repeatedly asks for the same information, these could be symptoms to get checked out. An experienced provider of Alzheimer's care services, such as Visiting Angels® Mentor, can provide valuable assistance once a diagnosis is reached.
Changes in Your Loved One's Mood and Personality
Among the many symptoms of Alzheimer's disease, the changes in mood and personality are often the most distressing for family caregivers. It is difficult to watch your loved one struggle with confusion, fear, anxiety, or depression due to their disease. Alzheimer's care services can provide you with support and provide skilled caregivers who are versed in the best ways to work with mood and personality changes.
Difficulty Completing Familiar Tasks
Many seniors who are living with Alzheimer's find it challenging to get through all of their daily tasks. Managing a budget, driving familiar routes, and forgetting how to play their favorite card game can all be symptoms of Alzheimer's disease. Alzheimer's care services from Visiting Angels Mentor can help your loved one complete daily tasks to make living at home easier. Caregivers can provide transportation to keep your loved one safe on the roads and keep them from getting lost. We can also help with household tasks and provide your loved one with gentle reminders.
Verbal and Language Challenges for Alzheimer's Sufferers
Loved ones who live with Alzheimer's disease may be hesitant to join in the conversation due to difficulty following the natural ebb and flow of the dialog. Your loved one may repeat themselves or have a hard time finding the right word to fit the situation. Visiting Angels Mentor has knowledgeable Alzheimer's care services professionals who are familiar with these symptoms and can communicate more effectively with your loved one, helping them to feel understood and heard.
Call Visiting Angels Mentor today to learn more about our Alzheimer's care services and book a free in home consultation.
Serving Lake, Geauga, and Northeast Cuyahoga Counties, Ohio
Visiting Angels
NORTHEAST OH
8451 Mentor Ave
Mentor, OH 44060
Phone: 440-974-0869
Fax: 866-257-1675