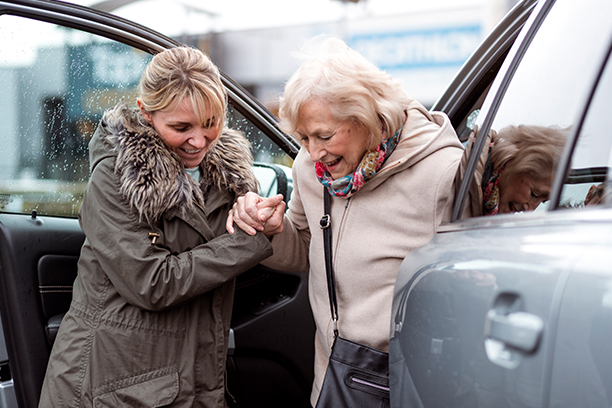 Caring For Someone with Alzheimer's with Visiting Angels of Newburyport, MA Home Health Aides
Have you or someone you love been diagnosed with Alzheimer's disease? You may be feeling frustrated or alone, but there are millions going through the same things you are. 5.8 million Americans are currently living with Alzheimer's, according to the Alzheimer's Association. Although Alzheimer's doesn't have a cure, some treatments can slow the progression and allow those with it to have a higher quality of life.
Do you suspect that your loved one has Alzheimer's? If so, the sooner you get them to a physician the sooner you can begin to administer care, whether through a family caregiver or a home health aide. Below are ten warning signs of Alzheimer's that you should look out for:
Challenges in planning or solving problems

Memory loss that disrupts daily life

Confusion about time or place

Difficulty completing familiar tasks at home or work

Trouble understanding visual images and spatial relationships

New problems with words in speaking or writing

Decreased or poor judgment when making decisions

Misplacing things and losing the ability to retrace steps

Changes in mood or personality

Withdrawal from work or social activities
Many of these symptoms can be mistaken as a normal part of aging. Remember: Alzheimer's is so much more than basic forgetfulness. Most people will experience a symptom of two above as they age. But, for those with Alzheimer's, the symptoms will gradually get worse and more frequent with time.
Help from Home Health Aides in Newburyport, Methuen, Haverhill, and Surrounding Areas
Once your loved one has been officially diagnosed, there are many things you can do to transition your loved one and your entire family into this new stage of life. Below are a few basic tips to remember.
Take care of financial, legal, and long-term care planning issues sooner rather than later.

Educate yourself about the disease

Arrange for respite care and/or regular professional home care with a home health aide

Prioritize cognitive stimulation.

Build a support system.
Finding professional Alzheimer's care for your loved one is as simple as making a quick phone call. Contact Visiting Angels of Newburyport today to learn more about our Alzheimer's care and what our home health aides can do for you.
Serving Merrimack Valley in Massachusetts
Visiting Angels
NEWBURYPORT, MA
182 State St.
Newburyport, MA 01950
Phone: 978-462-6162