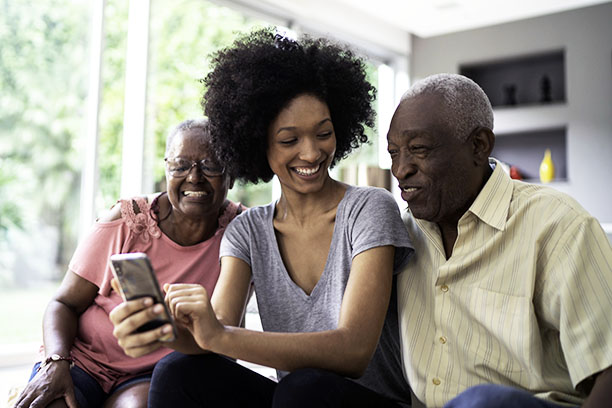 Social Care Program for Seniors in Hartford, Newington, and Southington, CT - Visiting Angels
Visiting Angels' social care program helps seniors in Newington, CT, learn how to use digital tools to stay connected with loved ones
At Visiting Angels, we offer our clients personalized care tailored to meet their every need, the opportunity to select their caregiver for an improved caregiving experience, and a holistic approach to care that can significantly elevate their quality of life.
We understand that taking care of a senior's physical needs is not enough to ensure their happiness and well-being. That is why our senior-centered caregiving philosophy focuses on all their physical, emotional, spiritual, and social needs - both inside and outside their home.
In order to address the social needs of our clients, our home helpers provide social care, a specialized type of care that allows seniors to stay connected with friends and family, remain engaged and entertained at home, and more.
Through our social care program, our home helpers teach seniors in Hartford, Newington, Southington, and surrounding Connecticut communities to make use of modern technology to improve their daily lives. This entails the use of platforms and services such as Facebook, Instagram, Skype, FaceTime, and others.
Recent studies have shown:
Surfing the Internet is a good way for seniors to prevent depression. Being active online can reduce depression in older adults by 20 percent. *
Seniors who use Facebook show a 25 percent improvement in mental skills, boosting their working memory, according to a study conducted at the University of Arizona.
Seniors who regularly visit social platforms such as Facebook have a positive emotional experience when measured by brain stimulation, breathing rates, and pupil dilation. **
If you opt for our Social Care program, our home helpers can teach your loved one to:
Use a cell phone to send text messages, make calls, take pictures, use VoIP services (WhatsApp, Skype, etc.), and more.
Send emails
Create a Facebook profile/page and interact with family and friends
Shop online
Research information
Use entertainment services to watch movies, tv shows, and more
Stay safe and protected while browsing the Internet
Learn More About Social Care for Newington Seniors
Getting started with our Social Care program is easy. All you need to do is contact our local office in Newington, CT and our home helpers will determine a plan of care based on your loved one's wishes and preferences.
We can help your loved one stay connected with the world around them, which can minimize the risk of depression, loneliness, stress, and anxiety. By communicating with loved ones and using the Internet to nurture their hobbies and passions, your loved one can enjoy their golden years to the fullest and stay happy and mentally and socially active from the comfort of their home.
Give us a call today to learn more about us and our programs!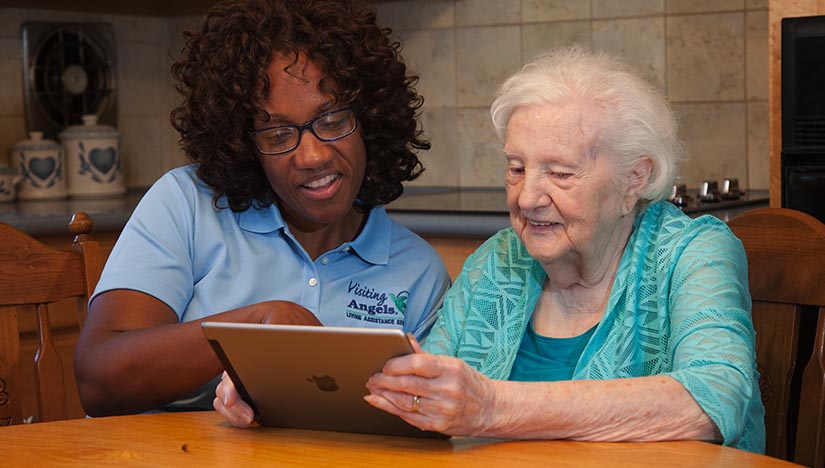 Because of this program, I was able to experience two of the greatest joys in life – becoming a grandmother and seeing my son become a new father. Skyping and Facebooking with my son and his family are now a normal part of my life. It helps me feel like I'm still an important part of their lives even though I'm miles and miles away.

* Washington, D.C. based Phoenix Center
** Journal Cyberpsychology, Behavior, and Social Networking
Serving Hartford, West Hartford and the Surrounding Areas
Visiting Angels
NEWINGTON, CT
66 Cedar St #301
Newington, CT 06111
Phone: 860-372-4429
Fax: 860-372-4471