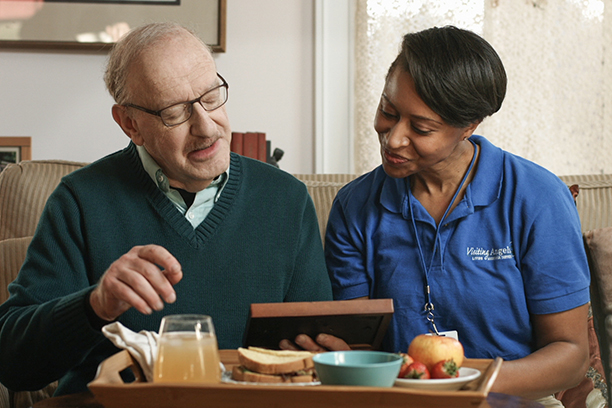 Elderly Care in Winchester
When a parent, grandparent, or other treasured relative begins to show signs of slowing down, you want to be there to support them in any way possible. Sometimes, all it takes is a phone call and a kind word to lift their spirits. Other times, they may need more of a literal helping hand. Elderly care from Visiting Angels® Shenandoah Valley can offer seniors in Winchester both of those things, and then some. We provide professional, in-home elderly care tailor-made to meet the unique needs of each family in Winchester. So whether they need companionship, transportation assistance, medication reminders, or something more in order to sail smoothly through their senior years, we've got it covered.
How Seniors in Winchester Win with Elderly Care
Having elderly care in Winchester means that both a senior and their family can expect regularly scheduled assistance. That means there is no need for them to attempt risky activities such as standing on a chair to change a light bulb, or driving in poor weather conditions to pick up supplies. Beyond that, having someone by their side to help them with the tough stuff can yield even more benefits for your loved one than you may think.
Some of the positive changes you may see in your Winchester relative after adding elderly care include:
A renewed enthusiasm for old hobbies and activities they may have set aside
Greater self-esteem stemming from their newfound independence at home
Fewer bumps, bruises, or scratches related to in-home accidents
Improved hygiene and a return to neat personal grooming habits
A reignited desire to socialize, connect with family, and make new friends
A tidier, more organized homestead and a better handle on household affairs
A steady weight and brighter complexion resulting from good nutrition
When you choose Visiting Angels Shenandoah Valley for your elderly care, you'll get to decide which services in Winchester are provided and how often. Whether you need someone to visit your loved one at home hourly, daily, weekly, or around the clock is completely up to you. We'll adjust your plan to fit exactly within the specifications of your schedule and budget. If you have questions or are interested in elderly care, learning more is easy, because we offer elderly care consultations to Winchester families completely free of charge.
To get started with elderly care, call Visiting Angels Shenandoah Valley in Winchester to book a free, in-home consultation today.
Serving Winchester City and Communities in Frederick, Clarke, Warren & Fauquier Counties
Visiting Angels
NORTHERN SHENANDOAH VALLEY VIRGINIA
158 Front Royal Pike #103
Winchester, VA 22602
Phone: 540-409-4401
571-258-0111
Fax: 540-409-4990