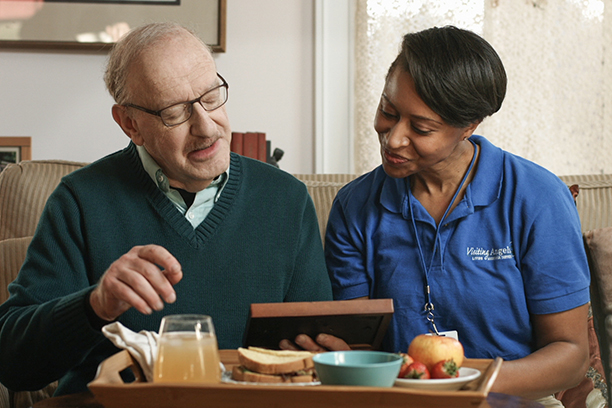 Home Care in Winchester: What is Home Care?
If you're responsible for making home care decisions for a loved one in Winchester, you may feel overwhelmed by your duties. What type of care is best for your loved one? How can they continue to live at home while receiving professional support? Visiting Angels® Northern Shenandoah Valley will answer all your questions about senior care so that you can approach the decision-making process with confidence.
Answering Your Questions About Home Care in Winchester
Our aim is to make life more livable for seniors in Winchester and their families through comprehensive, non-medical services known as home care. These services are personalized to meet the unique needs of each care recipient and can be adjusted over time.
Before you decide to proceed with care, we want to ensure that you have all the information you need to make the best choices for your loved one. We'll come by his or her home for a free care consultation to discuss the costs, our specialized programs, scheduling preferences, and more. Then, we'll design a customized care plan that accommodates your family's preferences and enables your loved one to receive high-quality support while living at home.
In addition to this free care consultation, you can count on our helpful staff at Visiting Angels Northern Shenandoah Valley to ease your burden through the following:
The selection of an ideal caregiver for your loved one's needs
Ongoing communication about your loved one's care
Consistent monitoring to ensure the safety and security of your loved one
Flexibility in the face of your family's changing needs and circumstances
How We Offer Home Care for Seniors in Different Situations in Winchester
Home care can take a variety of forms, depending on the unique needs of the care recipient. For example, our compassionate care providers can offer a helping hand around the house and companionship for those who are at risk of senior isolation. Elderly adults who require more intensive care, such as help with hygiene and mobility, can also receive the skilled assistance they need while aging in place.
These services aren't limited to seniors who still live at home. We'll bring soothing, supportive care to your loved one in the hospital, at an assisted living facility, or during a relocation to a new living environment. In addition, we offer last-minute care for families who find themselves in unexpected situations and in need of urgent help.
Contact Visiting Angels Northern Shenandoah Valley today to reserve a free home care consultation in the Winchester area.
Serving Winchester City and Communities in Frederick, Clarke, Warren & Fauquier Counties
Visiting Angels
NORTHERN SHENANDOAH VALLEY VIRGINIA
158 Front Royal Pike #103
Winchester, VA 22602
Phone: 540-409-4401
571-258-0111
Fax: 540-409-4990