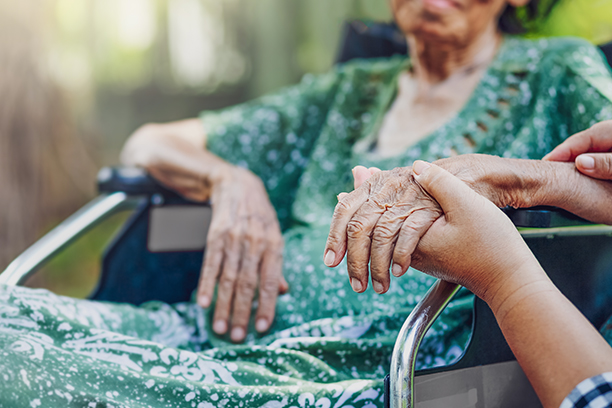 Long Term Care in Portage County, OH and Surrounding Areas
Alzheimer's FAQs:
What is the difference between dementia and Alzheimer's?
Dementia is an umbrella term for a wide range of brain disorders that are characterized by memory loss. Alzheimer's is the most common type of dementia. According to estimates, Alzheimer's cases account for somewhere between 60% to 80% of all cases of dementia.
It's therefore true that everyone with Alzheimer's has dementia, but not everyone with dementia has Alzheimer's. Individuals who are living with vascular dementia, for instance, will suffer symptoms like Alzheimer's, but the cause of their dementia is different.
What are the risk factors for Alzheimer's?
While scientists are still researching the exact cause of Alzheimer's disease, researchers have identified several risk factors.
The three biggest risk factors are as follows:
Advanced Age.

In most cases, symptoms of Alzheimer's disease begin after the age of 65.

Genetics.

Individuals with a family history of Alzheimer's are at higher risk of developing the disease themselves.

Heart Health.

Poor cardiovascular health increases one's risk. Individuals with a history of hypertension, high cholesterol, diabetes, stroke, or cardiac arrest will be at higher risk.
What are the symptoms of Alzheimer's?
Most symptoms, particularly early signs of Alzheimer's, are expressed through a person's speech, thought patterns, and behaviors.
The most prominent symptoms include:
Short-term and long-term memory loss

Trouble solving simple problems

Uncommon struggles with day-to-day activities

Words forgotten or mixed up

Items lost more frequently

Confusion about current time or place

Confusion about the names and identities of people

Irrational, irritable, or depressed behaviors and actions
Does Alzheimer's disease have a cure?
Currently, there is no known cure for Alzheimer's disease, and the disease's progress is believed to be irreversible. While scientists continue to search for a cure, modern treatments and clinical trials are limited to slowing the onset of the disease, delaying its initial symptoms, or reducing its progress.
What are my loved one's long term care for Alzheimer's care?
One option for long term care is moving your loved one into a nursing care facility. However, this can be traumatic for individuals with Alzheimer's, and it is typically considered a last resort.
Another option is to hire Alzheimer's senior care services, such as those offered by Visiting Angels of Portage. This specialized in home care helps individuals age in place with Alzheimer's disease.
Alzheimer's home care is distinct from traditional long term care, since individuals with Alzheimer's have distinct care needs from other seniors. Visiting Angels' specialized senior care is designed around the unique challenges of the disease, as well as the recipient's individual care needs. Care is provided in the comfort of the recipient's home, and services are performed by caregivers who are uniquely qualified to care for individuals living with Alzheimer's.
Learn more about Alzheimer's long term care services offered by Visiting Angels of Portage today, or contact our office at 330-947-4628.
Serving Portage, Geauga, and Southern Cuyahoga Counties.
Visiting Angels
PORTAGE, OH
240 W Riddle Ave
Ravenna, OH 44266
Phone: 330-297-2000
N/A