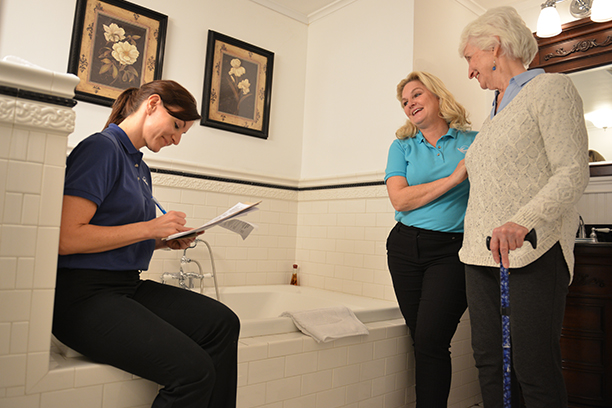 Visiting Angels of Portage Provides Attentive Home Care for Seniors with Alzheimer's
How Visiting Angels' Attentive Home Care Assists Seniors in Ravenna, Aurora, and Surrounding Areas
The National Institute on Aging describes Alzheimer's as "an irreversible, progressive brain disorder that slowly destroys memory and thinking skills and, eventually, the ability to carry out the simplest tasks." 5.8 million Americans are living with Alzheimer's. Currently, there is no cure for Alzheimer's, but there are therapies and treatments many utilize to slow the worsening of the disease. This, as a result, improves the quality of life of those who have it.
Do you know someone who is showing symptoms of Alzheimer's? It's important to get them in front of a physician as soon as possible. The sooner your loved one is diagnosed, the sooner you can begin to create a plan for their senior care. The Alzheimer's Association reports that some of the early signs and symptoms of Alzheimer's are memory loss that affects daily life, challenges in planning or solving problems, difficulty completing familiar tasks, and confusion with time and place.
Discovering that your loved one has been diagnosed with Alzheimer's can be overwhelming. Here are some of the many ways you can prepare your family and your loved one:
Educate yourself about the disease.

Some of the most credible online resources include the Alzheimer's Foundation of America and the Alzheimer's Association.

Take care of financial, legal, and long-term care planning issues.

Now is the time to create a plan for future attentive home care, or what will happen in the event of their passing.

Use cognitive stimulation.

Activities such as memory games and listening to music can be a positive experience for those who are suffering from Alzheimer's.

Schedule respite and/or regular professional attentive home care.

To find a caregiver who can best cater to your loved one's needs, look for caregivers who have

Dementia Care Professionals of America

training or who have previous experience working with clients who have dementia. Visiting Angels of Portage, for example, provides this unique kind of training to their staff.

Build a support system.

An Alzheimer's diagnosis can make a whole family feel alone and isolated, but it doesn't have to be that way. Local hospitals and departments of aging may provide free support groups.

Call Visiting Angels of Portage today at 330-297-2000 to learn more about our Alzheimer's care, and other forms of attentive home care we offer.
Serving Portage, Geauga, and Southern Cuyahoga Counties.
Visiting Angels
PORTAGE, OH
240 W Riddle Ave
Ravenna, OH 44266
Phone: 330-297-2000
N/A