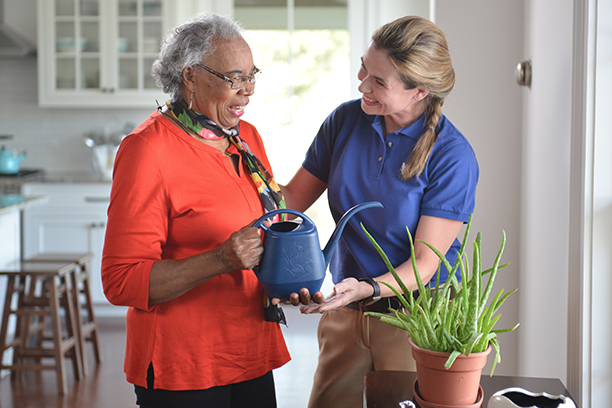 Visiting Angels Raleigh, NC Blossoms of Love
It's the season of love, chocolates and roses. But Valentine's Day is not so rosy for the elderly. In fact, it's often the most depressing time of the year for seniors who are widowed or living alone. That's why a group of local "angels" is stepping in for cupid this year. During the week of Valentine's Day, local caregivers from Visiting Angels will surprise area seniors with flowers — what they call "Blossoms of Love." This, after a
study
shows a small bouquet of flowers can make a big difference in seniors' lives. We invite you to follow along as we surprise seniors!
"We're bringing seniors bouquets because the study shows flowers can snap them right out of depression and encourage them to socialize and engage with people around them," says Larry Meigs, CEO of Visiting Angels, one of the largest in-home senior care companies with a local office. "If you can't be with Grandma or Grandpa, send them flowers along with thoughtful gifts this week. For families who can't be there, our caregivers can step in to make this week a fun, warm and memorable holiday."
The Study:
A significant increase in happiness and positive moods when flowers were present. Eighty-one percent of seniors reported a reduction in depression after receiving the flowers.
Nearly three out of four seniors who got flowers performed higher on every memory task compared to seniors who did not.
Seniors who received a bouquet re-engaged with others and expanded their social contacts, including more neighbors and even medical personnel.
Visiting Angels Raleigh, NC services Raleigh, Wake Forest, Garner and other Wake County, NC communities. If you or your family is in need of in-home senior care services please give Contact Us at 919-787-4317.
Serving Raleigh, Cary, Wake Forest, Fuquay-Varina and other Wake County, NC Communities
Visiting Angels
RALEIGH, NC
5700 Six Forks Rd #102
Raleigh, NC 27609
Phone: 919-787-4317
Fax: 919-861-6954