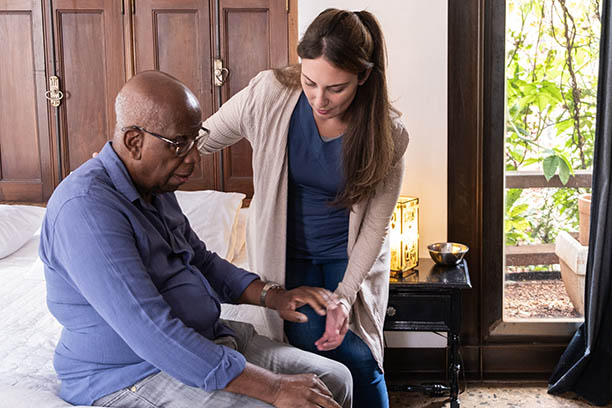 Comforting Palliative Care for Seniors in and Near Raleigh, NC
Seniors who live on their own come across numerous challenges. Age-related difficulties can make it difficult to complete everyday tasks that used to be so easy. Often, seniors are also dealing with chronic illnesses that can make being independent even harder. If your loved one prefers to age in place, they may need some additional support and a caring presence.
That's why at Visiting Angels of Raleigh, we provide comfort and support to local seniors in Raleigh, Cary, Wake Forest, and throughout Wake County, NC through our palliative care services. We've offered holistic senior home care services to make aging in place easier and less stressful for elderly adults in our community since 2000.
Call us at 919-787-4317 to learn how we can help your senior loved one!
What is Palliative Care?
When it comes to this type of senior care, its definition is unique to everyone. The aging process affects each person differently. It includes the elderly, the injured, and even those who are reaching the end of their life. In order to accurately cater to our clients, we work with them to create a personalized care plan that caters to each and every person's specific health and wellness needs.
Often, palliative care is mistaken for hospice care. Hospice care often caters to individuals who are approaching the end of their lives. Our caregivers tend to every client's health and wellness needs, no matter their life expectancy.
How Palliative Care from Visiting Angels Helps Raleigh-Area Seniors
Through our palliative care services, we maintain a holistic mindset of in-home senior care. We believe that there are four specific tenets in life and we cater to each of them equally: physical, emotional, spiritual, and social. In order to cater to each type of need, we create personalized care plans for each of our clients.
We will work with you and your loved one to establish a plan of care that includes the senior home care services they need to age in place comfortably while working with their schedule. When you choose Visiting Angels of Raleigh, you'll have peace of mind knowing your loved one will receive the support and comfort they need when they need it most.
Our palliative care services address:
Physical needs: Our caregivers are always on the lookout for physical signs of discomfort. Additionally, our caregivers can provide personal care services for our clients.
Emotional needs: Whether your loved one is dealing with depression, anxiety, loneliness, or any other emotional need, our caregivers can provide friendly companionship through it all.
Spiritual needs: No matter what religious belief your loved one has, we can help your loved one find peace and restore hope.
Social needs: Seniors are in need of socialization. To connect further with friends, family, and their environment we teach seniors how to utilize technology to their advantage. We teach seniors about browsing the email, social media, and video chatting.
Our goal is to provide comfort and restore hope to the lives of seniors in the Raleigh area who may have trouble with living independently, as well as to give peace of mind to families. With palliative care from Visiting Angels of Raleigh, you can have peace of mind knowing your loved one is in caring, comforting hands.
Call Visiting Angels of Raleigh to Schedule a Free Consultation
If your loved one is in need of palliative care, call 919-787-4317 to be matched with a professional caregiver from Visiting Angels of Raleigh.
Serving Raleigh, Cary, Wake Forest, Fuquay-Varina and other Wake County, NC Communities
Visiting Angels
RALEIGH, NC
5700 Six Forks Rd #102
Raleigh, NC 27609
Phone: 919-787-4317
Fax: 919-861-6954