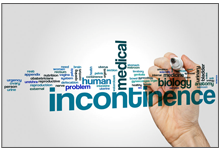 Myths About Senior Incontinence
Urinary incontinence occurs when the muscles in and around the bladder weaken, causing urine to leak out involuntarily. It ranges in severity, from small, occasional leaks to moderate amounts that occur more frequently. Urinary incontinence is categorized into different types, depending on symptoms. Although the condition can happen to anyone at any age, most episodes occur in older adults.
Because of this, many older adults have misconceptions about urinary incontinence. Don't let your misconceptions about incontinence stop you from living your best life. Here are the top five myths about senior incontinence.
It's a Normal Part of Aging
Many older adults fall prey to the myth that urinary incontinence is a normal part of aging. However, under half (43.8%) of the older adult population who live at home have reported experiencing urinary leakage. This indicates that incontinence does not happen to all older adults. Incontinence should not be considered a normal or inevitable part of aging.
It Only Happens to Women
Another common myth about incontinence is that it only affects women. While most incontinence episodes occur in women, men can also experience bladder leakage. According to one study, the prevalence of incontinence in men is between the range of three and eleven percent. Like cases of incontinence in women, incontinence in men increases with age. Older men are more likely to experience urge incontinence.
Limiting My Fluid Intake Can Prevent It
Older adults who worry about incontinence believe they can prevent the condition by limiting their fluid intake. However, restricting fluids can lead to bladder irritation and worsen urinary incontinence. Reducing and restricting fluid intake causes urine to become more concentrated, which then irritates the bladder. One study found no significant risk of incident urinary incontinence in women who drank a higher volume of fluids. Older adults are more at risk for dehydration, so it's important that they drink plenty of water and not worry about incontinence.
My Doctor Doesn't Need to Know
It can be embarrassing for some older adults to discuss urinary incontinence with their primary care physician. They may believe the myth that their doctor doesn't need to know about bladder leakage they're experiencing and chalk it up to old age. Yet, it would be best if you were honest with your doctor about any episodes of incontinence. Your doctor can develop the right treatment plan for you to help you regain control of your bladder.
There's Nothing I Can Do
One final myth about urinary incontinence that most older adults believe is that they can do nothing about it. Although you may feel hopeless regarding your incontinence, there are several treatment options for the condition. From behavioral techniques, such as bladder training or scheduling frequent bathroom trips, to specific pelvic floor exercises, there are techniques to help older adults who suffer from the condition. If you continue to struggle with incontinence, your doctor can prescribe medication or recommend a surgical procedure.
If you are an older adult who struggles with incontinence, know that you are not alone. Visiting Angels Richmond is here to help. Our dedicated and reliable caregivers have helped thousands of older adults live safely and comfortably in their own homes while providing their families with peace of mind. Our caregivers can even escort you on errands, giving you confidence that you'll have help to get to the restroom if needed. Don't wait any longer to start receiving the care and support that you need. Please get in touch with us today so that we can learn more about your situation.