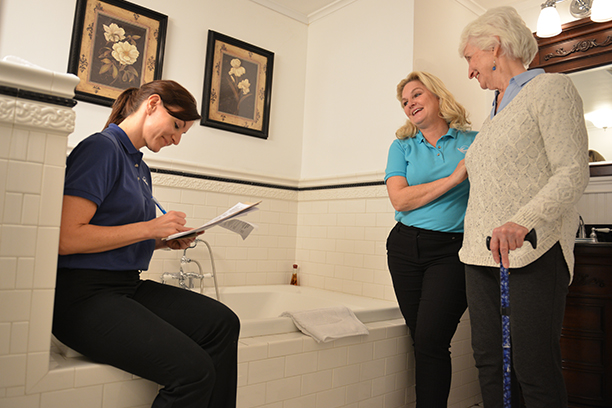 Transitional Care from Professional Richmond-Area Caregivers
Many seniors in Richmond, Mechanicsville, Glen Allen, Short Pump and surrounding communities in Henrico and Hanover Counties need help to successfully and completely recover after hospitalization or a stay at a rehabilitation facility. Through the Ready-Set-Go Home program from Visiting Angels, our caregivers can help your loved one make this transition and minimize the risk of health complications and hospital readmission.
This program includes a three-pronged approach to transitional care. We can help you coordinate your loved one's return home, assist them throughout the transition and support them as they slowly start to regain their independence at home.
How Our Caregivers Help Richmond-Area Seniors Return Home from the Hospital
Most preventable hospitalizations could be avoided by simply following doctor's orders. However, this is easier said than done for a lot of seniors. In order to follow all the guidelines and recommendations provided by their medical teams, seniors need a strong support system during recovery at home.
This is precisely what our Ready-Set-Go Home program is all about. We offer home care services in accordance with the orders given to your loved one by their doctor and in conjunction with the care provided by your family. Our services are fully personalized and client-centered, so your loved one will get all the help they need for a full or partial recovery, depending on their condition.
Here's how our transitional care services can help your loved one:
At The Hospital – Our Ready-Set-Go program begins during your loved one's hospital stay. One of our senior caregivers can visit your loved one in the hospital, providing your family with the support you need during this time. They can guide your family through the discharge process as well. We developed a transitional care guide that can also be of use to you as your loved one is about to be discharged. The guide contains information about hospital discharges, questions you may want to ask doctors and nurses, and advice on reducing the risk of hospital readmission.


At Your Loved One's Home – Once your loved one returns home, one of our home care providers can assist them with activities of daily living to ensure they have everything they need for a safe and comfortable recovery. They are skilled and experienced enough to spot any changes in your loved one's health, so they can inform your family the moment they notice an improvement or deterioration in your parent's health. And if you and other family members are acting as primary caregivers for your loved one, our services can help you get respite and manage your responsibilities with ease.


At the Visiting Angels Office – Our team of experts at our Richmond, VA office can help your family at any time. We have access to many tools and resources that can reduce hospital readmission by identifying clients that are more likely to return to a hospital. We can also provide medication and appointment reminders, drive and accompany your loved one to appointments, and assist with coordinating your loved one's care.
If your loved one is currently in a hospital and you expect them to be discharged soon, our caregivers can help.
Contact our Richmond, VA office today to learn more about us and how a professional caregiver can speed up your loved one's recovery and decrease the risk of hospital readmission.


Serving communities in the Metro Richmond Area including Richmond, Mechanicsville, Glen Allen, Short Pump, Henrico & Hanover Counties
Visiting Angels
RICHMOND, VA
4914 Radford Ave #211
Richmond, VA 23230
Phone: 804-353-0000