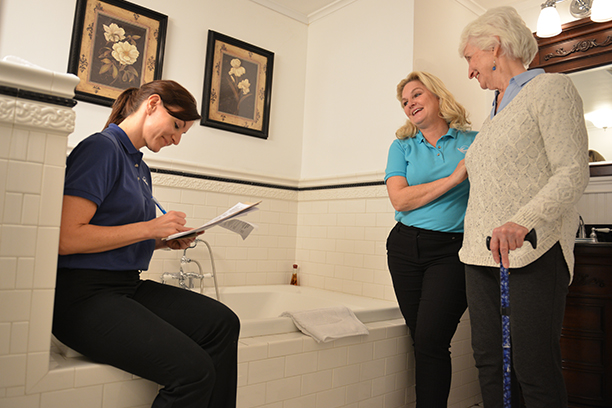 Frequently Asked Questions About Living Assistance Services for Seniors in Midlothian, VA and Surrounding Areas
Visiting Angels Richmond VA has answers to some common questions about living assistance services in Midlothian, Richmond, Henrico and surrounding communities in Virginia
Q. What kind of senior care services do you provide in Midlothian, Richmond and surrounding communities?
Visiting Angels Richmond VA is a local provider of quality in-home care services, including personal care and companion care services, for seniors throughout Richmond, Midlothian, Henrico and surrounding areas in Virginia. Our living assistance services are personalized to meet the specific needs of clients who require some level of care and support in order to maintain their independence and quality of living while remaining at home. Some of our services include light housekeeping, medication and fluid intake reminders, grooming or bathing assistance, running errands/grocery shopping and fall prevention.
Q: What does the term "aging in place" mean?
The term aging in place is widely used in the caregiving industry to describe the ability of an individual to grow old in their own home or in the home of a family member. Aging in place is the opposite of institutional residential care, which is provided in nursing homes. However, in some cases, aging in place may also refer to the ability to stay in an assisted living facility and receive additional support that comes from an outside source.
Q: Do you provide services in assisted living facilities?
Yes, we do. When clients placed in an assisted living facility require additional support to supplement the care they're already receiving, Visiting Angels Richmond VA can provide quality living assistance services to make that happen.
Q: How soon can your home care services be provided/started?
Generally speaking, our services can be provided within 48 hours after receiving a care request. In the majority of cases, however, our services can be provided the very same day you reach out to us.
Q: Can I change the schedule if I have appointments to keep?
Of course you can. At Visiting Angels Richmond VA, your needs, requests and schedule always come first. Our policy is to make the schedule work for the family. Any schedule changes can be easily accommodated if we are given a one-week notice.
Q: How can I get started with living assistance services from Visiting Angels Richmond VA?
Getting started with our senior care services couldn't be simpler. Get in touch with our office in Midlothian, VA at 804-423-6500. We will arrange for our one of our team members to visit your loved one's home and conduct a free assessment of their care needs. Then, at your direction, we will recommend a caregiver who possesses the skills to assist your mom or dad. You will then be able to meet the caregiver - and if you approve the match, they will start working for you.
Serving Midlothian, Richmond, Chesterfield, Henrico and throughout the Southside neighborhoods of Brandermill, Bon Air, and Westhampton
Visiting Angels
RICHMOND, VA
14321 Winter Breeze Dr #83
Midlothian, VA 23113
Phone: 804-423-6500
Fax: 804-423-6533