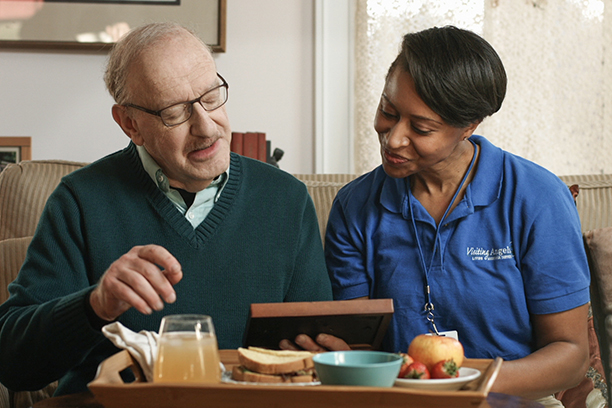 Learn About the Benefits of Senior Home Care Services for Older Adults in Midlothian, VA and Nearby Areas
If your aging loved one in Midlothian, VA or any of the surrounding areas wishes to remain independent and live their golden years in the comfort of their own home, senior home care services from Visiting Angels Richmond VA can help make sure they're safe and healthy
If you have never worked with a professional senior home care agency before, you probably have hundreds of questions about in-home senior care. Here at Visiting Angels Richmond VA, we are experts at providing care for seniors living in Midlothian, Richmond, Henrico and surrounding communities in Virginia. This is why we are able to guide you through the decision-making process and answer any of the questions you might have.
We understand that opening the door of your home to a stranger is not an easy thing to do, and you likely have questions such as:
How can a professional caregiver help your loved one?
Will your parent like their caregiver's personality and vice versa?
Will this caregiver be able to provide the right level of care and allow your loved one to remain independent at the same time?
Will your parent's schedule get disrupted?
When you consider senior home care services for your parent, it is completely normal to have all these questions. Throughout our career we have been in thousands of homes, we have dealt with all sorts of situations and schedules, as well as personalities. We will take time to answer all of your questions about our services and introduce you and your loved one to this new process you will be going through.
Benefits of Senior Home Care Services
People often assume that assisted living facilities and nursing homes are the only options for seniors who are developing age-related issues. However, many seniors value their independence, even if they struggle with preparing meals or can't get from room to room easily due to stiff joints. When faced with the idea of having to relocate to an unfamiliar setting, many seniors reject having to move or get upset over having to lose their cherished home. If this sounds like your situation, consider professional in-home senior care.
Here are some of the benefits of professional elderly care at home:
In a residential facility, seniors have to follow a set schedule. At home, seniors can keep their own schedule while a caregiver comes to visit when they need support.
Seniors are familiar with the layout of their home, especially if they've lived there for decades. With professional care at home, seniors don't have to navigate completely new surroundings. This is especially helpful for seniors who have memory-related illnesses like dementia or Alzheimer's.
In many cases, senior home care services cost less than care in a residential facility.
With so many benefits, it's no wonder that families in Midlothian, Richmond, Chesterfield and surrounding communities choose Visiting Angels Richmond VA to be their partner in senior care.
Personalized Senior Home Care Services Available for Elderly Adults in Midlothian and Nearby Communities
Most families take time to plan their loved one's future care. They evaluate many solutions and do a research before they even make a care request. However, in situations that are the result of an emergency or a late day discharge from a hospital, families require a faster response. In these cases, we are able to respond quickly and help you deal with a stressful situation.
Whether your loved one needs assistance in a hospital, an assisted living facility or is returning home after being discharged from the hospital, we are able to help them. We understand that transitioning from an assisted living to a family member's home is stressful, and we are here to make this whole process easier for you and your parent.
Find Helpful Assistance from Visiting Angels Richmond VA
Making all sorts of decisions about your loved one's care is not an easy task, but we can ease your burden. We are here to consult with you about scheduling, costs and care, and we will even schedule an in-home visit. When our representatives visit your parent and assess their needs, they will create a customized care plan based on their requirements. We will coordinate a caregiver meeting and adjust our care plans whenever needed.
If you wish to learn more about our senior home care services, feel free to call our office in Midlothian, VA at 804-423-6500.
Serving Midlothian, Richmond, Chesterfield, Henrico and throughout the Southside neighborhoods of Brandermill, Bon Air, and Westhampton
Visiting Angels
RICHMOND, VA
14321 Winter Breeze Dr #83
Midlothian, VA 23113
Phone: 804-423-6500
Fax: 804-423-6533