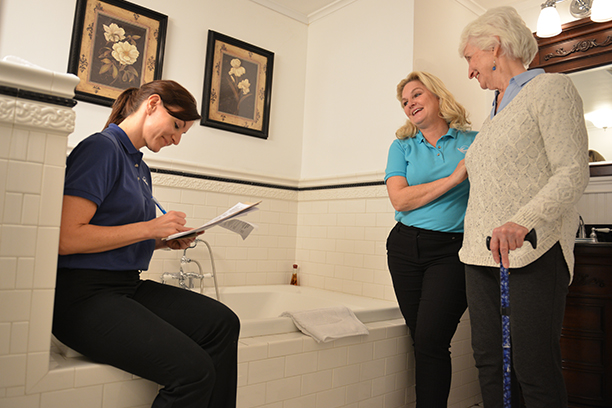 Understand Financing Options for In-Home Care Services in Richmond VA
Learn more about options for finding and financing in-home care for a senior loved one in Richmond VA, including the counties of Chesterfield, Powhatan and Henrico
The world of caregiving has evolved considerably from where it once was. Financial regulations change, technology becomes available to make life easier and certain certifications ensure skills evolve to meet the needs of aging adults. Being a caregiver is a constant learning experience, and as your loved one's needs advance, it's essential to know how to cater to them.
Let's explore the current state of caregiving, everything from financing options for families to the technology available and the certifications you can look for when addressing your senior loved one's needs.
Financing
What's covered and what's not concerning senior care at home can change, so it's always worth checking what the latest situation is. Here are some option for covering the costs of professional care for seniors:
Medicare
Medicare is the financial program that provides medical benefits to people over 65. In general, Medicare will not pay for long-term in-home care services, such as help around the home. It may give some support for short-term conditions or terminal conditions. If you need more information about what Medicare will cover in the state of Virginia, contact the Virginia Counseling and Assistance Program.
Medicaid
Medicaid is a joint federal and state program offering medical benefits. Unlike Medicare, it may contribute to long-term in-home care, provided the senior meets eligibility requirements. For more information on eligibility see this guide. An online guide to applying is available here.
Veterans' Benefits
These may pay for in-home care if your loved one has served in the U.S. armed forces. Veterans who meet certain active-duty or wartime requirements, as well as their spouses, may be eligible for the Aid & Attendance benefit, which can help cover the cost of some essential personal care services. For more information visit the US Department of Veterans Affairs website.
Health insurance
Because we strictly provide essential personal home care services, traditional health insurance does not typically cover in-home care. There is a separate type of insurance policy, known as Long-Term Care insurance, that will typically cover the cost of senior care at home. For more information on long-term care insurance, and other benefits your loved one may have, click here.
Technology
Technology's advances have genuinely simplified the ability to care for an aging loved one who is experiencing increased levels of dependency. Lots of solutions exist to make things like communication and health maintenance easier for people tasked with caring for a loved one.
Video Chat
Services like Skype or FaceTime may be old news, but there's no discounting the impact they've made. The social aspect is attractive, but video chat also lets you pick up on signs you may miss on a phone call. Does Mom look well? Is she happy? Maybe the house looks untidy in the background, and that's out of character. You can tell when Mom needs a visit from family, and when she may need some help with housework. Video chat keeps you connected, so it's a great idea to ensure your aging loved one has a medium to use it.
Health Monitors
Wearable technology like Fitbit isn't just for exercise enthusiasts. The latest models take continuous heart rate readings, track the wearer's sleep patterns and can sync the data with a cell phone. They can also be set up to give your loved one a gentle reminder to exercise or, at the opposite side of the spectrum, a reminder not to do too much. They can even provide your loved one's location via GPS, which can be extremely useful if you're caring for a loved one who is living with Alzheimer's or dementia.
Medical Alert Monitors
These monitors allow you to check on your senior's activity via sensors placed around the home. You receive alerts and can log onto a website to check things like whether your mom is taking pills or opening the refrigerator. These services can be expensive, and usually have a monthly fee and a minimum subscription period. It may be worth considering whether a medical alert subscription is best for your loved one if you're too distant or busy, or whether an in-person visit from a professional caregiver is a more optimal solution.
A Personal Help Button
The help button is another piece of wearable technology. Your mother would wear the button around her neck, and if she falls, or otherwise needs medical help, she can push the button and be connected to a response center. These also usually require a monthly fee.
Home Assistants
Uber-popular home assistants like Amazon Alexa or Google Home could also revolutionize a senior's home life. The voice interface makes them easy to interact with, even for technophobes, and you can set up reminder alarms to verbally tell your loved one which medication to take and when. They can make voice calls to other home assistants, without the senior having to physically walk to a phone.
For more information on apps, which can help with things like care planning, medication reminders and caregiver support groups, read this article on the Best Apps and Digital Tools to Help You as a Caregiver.
Serving Midlothian, Richmond, Chesterfield, Henrico and throughout the Southside neighborhoods of Brandermill, Bon Air, and Westhampton
Visiting Angels
RICHMOND, VA
14321 Winter Breeze Dr #83
Midlothian, VA 23113
Phone: 804-423-6500
Fax: 804-423-6533