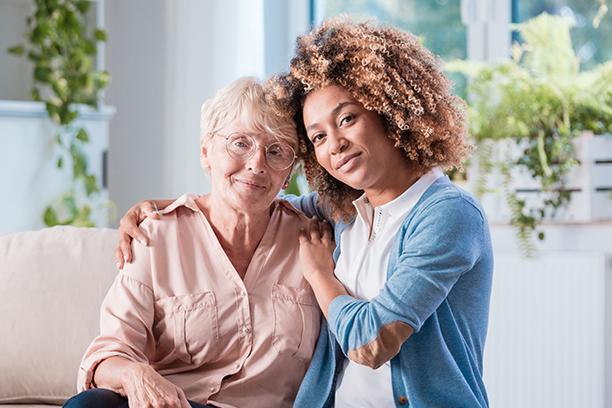 Local Senior Resources for Families in Midlothian, VA and Surrounding Communities
Visiting Angels helps seniors in Midlothian, Richmond, Henrico and surrounding Virginia communities access helpful local resources that support healthy, independent senior living
There are many changes and challenges that come with aging and it can be hard for families to find the help they need. At Visiting Angels, we have a holistic approach to senior care. This is reflected by our caregivers who provide compassionate in-home assistance and friendly companionship. Our caregivers are able to provide care in your loved one's residence - whether this is an apartment, a family home, or an assisted living facility.
We know that meeting the physical needs of our senior client's is important, but caring for their social, emotional, and mental wellness is essential. Depending on your loved one's condition and abilities, they may need additional support. In order to best serve our clients, Visiting Angels has compiled a list of local senior resources.
Activities
An active social life is important for seniors as well - especially if they live alone! We've include a few of our clients' favorite activities, including fitness classes, educational programs, and senior centers. Getting out and enjoying the company of others can do great things for independent seniors. With the help of a Visiting Angels caregiver, your loved one may find a hobby or activity they love.
Independence Golf Club | (804) 601-8600
This is a premiere public golf course located just west of Richmond, VA and a great spot for senior golfers.
Lifelong Learning Center of Midlothian | (804) 378-2517
Lifelong Learning Center in Chesterfield is a nonprofit organization designed to meet the education, fitness, and social enrichment needs of adults 50 and up. Activities include classes such as art, history, and finance, group card games, and bingo.
Salisbury Country Club | (804) 794-6841
Salisbury Country Club is a private, member-owned country club in Midlothian, VA. This is a great course for short game practice or utilizing the driving range.
Virginia State Golf Association | (804) 378-2300
Also in Midlothian, the VSGA is a nonprofit organization that provides opportunities for learning about and improving on your golf game.
Health & Wellness
Some of these resources are medical offices that we refer our clients to and who recommend patients to us. As an essential personal home care agency, there are certain services that we are simply unable to provide. We will do our best to help our clients find quality professionals that can meet these needs.
Bon Secours Hospice | (804) 309-3660
The community hospice house is a 16-bed facility designed to provide end of life care for the Richmond-metro area.
Bon Secours Westchester Emergency Center | (804) 594-2100
This is our area's first Freestanding Emergency Department and can help your family's urgent medical needs 24/7, 365 days of the year.
Bon Secours Wound Care Center at St. Francis Medical Center | (804) 893-8477
With locations in Midlothian and Richmond, VA, the Bon Secours Wound Center can treat wounds using a variety of treatments and technologies.
Hearing Solutions, PLLC | (804) 804-794-9087
Located in the Westchester Commons shopping center in Midlothian, Hearing Solutions PLLC offers services for the evaluation, treatment, and prevention of hearing loss.
Heartland Hospice | (804) 288-0235
A mutual care provider that can work alongside Visiting Angels caregivers to make sure specific needs are met.
Johnston Willis Hospital | (804) 483-5000
Located in Richmond, VA Johnston Willis Hospital has been providing quality health care in our area for more than 100 years.
Ortho on Call | (804) 400-4878
A variety of physicians with a wide range of orthopedic specialties in one location.
Pivot Physical Therapy | (804) 858-0220
Also located in the Westchester Commons shopping center, Pivot Physical Therapy provides a variety of physical rehabilitation services.
Richmond Spine Intervention and Pain Center | (804) 378-1800
The Richmond Spine Intervention and Pain Center specialized in a variety of spinal injection techniques.
Sheltering Arms Rehab | (804) 764-1000
Provided physical rehabilitation services, helpful information, and expert care for adults recovering from illness and injury.
St. Francis Hospital | (804) 594-7300
Completed in 2005, St. Francis Medical Center is a state-of-the-art facility offering the latest in digital technology, including patient rooms wired for the Internet.
St. Mary's Hospital | (804) 285-2011
Since 1966, St. Mary's Hospital has served Central Virginia, providing compassionate health care of the highest quality.
Virginia Eye Institute | (804) 287-4216
Find a ophthalmologist or specialist to provide the eye-care you need in one locations.
Westport Rehab | (804) 287-8600
Westport Rehabilitation and Nursing Center has the largest Rehab Department of any skilled facility in Richmond. The Center is conveniently located near both Henrico Doctors' Hospital and Bon Secours St. Mary's Hospital.
Women's Imaging Services at Westchester Medical Park | (804) 627-5660
Bon Secours Virginia provides imaging technology for women's health including Mammography and Bone Densitometry.
Senior Centers
Getting out of the house for an afternoon or taking a day trip can be a great change of pace for independent seniors. Socializing and trying new things are both great for our mental health - especially for seniors! With help from a Visiting Angels caregiver, your loved one care participate in senior-friendly activities, share meals with their peers, or try something new.
dayBREAKS Adult Day Center | (804) 419-0999
This is a great daytime care solution for seniors who are looking for an hour or two of activity. The care staff at dayBREAKS are specially trained to to handle the many forms of dementia.

Senior Living & Housing
If your loved one is overwhelmed by the responsibilities and up-keep that come with living on their own, senior living and assisted living facilities may be something to consider. Visiting Angels has many caregivers who provide supplemental care for seniors who live in facilities or senior communities. We can still provide a helping hand with the day-to-day, such as laundry, light housekeeping, companionship, and meal preparation, but your loved one may not need to worry about house maintenance or yard work.
Bickford Senior Living | (804) 594-7055
A senior assisted living and memory care option for aging adults in Midlothian, VA.

Brandermill Woods | (804) 744-1173
A retirement community that offers independent living rental properties and a health care community.

Chesterfield Heights | (804) 379-2768
Independent and retirement living with on-site management, activities, and support.

Spring Arbor Assisted Living | (804) 601-0910
We also have clients who reside at Spring Arbor, a senior living community in the Salisbury neighborhood of Midlothian, VA, that provides customized care plans for seniors.
Sunrise Senior Living | (888) 434-4648
Near Johnston Willis, Chippenham and St. Francis hospitals, Sunrise at Bon Air offers assisted living, memory care, and short-term stay solutions.
The Virginian | (804) 594-8334
The Virginian Retirement Community is central to Chippenham Hospital and Chesterfield Towne Center.
Support Resources
From navigating your loved one's financial and legal planning to determining what government benefits your loved one may be eligible for, your family will likely need professional support on a variety of topics. We encourage our clients and their families to do thorough research when choosing a professional advisor.
Senior Connections | (804) 343-3000
A non profit founded in 1973, Senior Connections offers a range of Home and Community-Based services for older adults, caregivers, and disabled adults in Chesterfield, Richmond, Hanover, and Henrico Counties.
Serving Midlothian, Richmond, Chesterfield, Henrico and throughout the Southside neighborhoods of Brandermill, Bon Air, and Westhampton
Visiting Angels
RICHMOND, VA
14321 Winter Breeze Dr #83
Midlothian, VA 23113
Phone: 804-423-6500
Fax: 804-423-6533