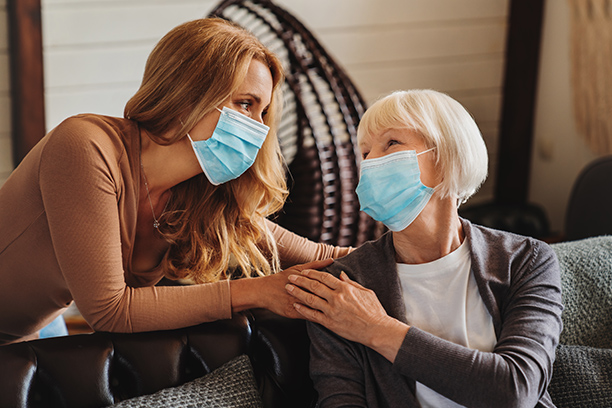 Our Companion Home Care Aides Offer Fall Prevention Solutions for Seniors in Midlothian, VA and Surrounding Areas
A companion home care aide from Visiting Angels makes it safer for seniors throughout Richmond, Midlothian, Henrico and surrounding communities to live at home by preventing fall-related risks
Seniors face a number of challenges on a daily basis that most younger people do not think twice about as they go about their day. One of those things is fall prevention. For older adults, taking a fall can be a life altering and even fatal situation. That is why companion home care aides from Visiting Angels Richmond VA focus on fall prevention and make it a regular part of our clients' daily routines. Our goal is to provide quality in-home senior care that helps our clients stay safe in their own home.
The Falls Impact Seniors
Did you know that the majority of emergency room visits by older adults are actually caused by falls and could have been prevented? We are very aware of this, which is why fall prevention has been a major part of our home care programs since we opened.
At Visiting Angels Richmond VA, we understand how truly improved a senior's life can be if they are kept safe from falls. We have also seen what happens to seniors when they do fall and how long the recovery process can take. Each and every one of our companion home care aides is trained to help older adults maintain their independence for as long as possible during their golden years.
One thing many individuals do not understand is the fact that falls do not only take a toll on a senior's physical well-being. A fall can impact their social lives and emotional well-being, as well. If a senior takes a serious fall that takes them a long time to recover from, they can become very afraid of taking a fall again, making them very timid and afraid to go about their life with ease. In fact, after taking a fall, many seniors are left with a lot of anxiety, which can in turn cause depression, loneliness and isolation.
Take the necessary steps today to find a companion home care aide who will help maintain a high quality of life for them.
How Our Fall Prevention Program Help Seniors Stay Safe
Like we said, falls can really change your loved one's life for the worst. However, the good news is that they do not happen out of nowhere. At the same time, they can be prevented. Prevention starts with a Visiting Angels in-home caregiver surveying your loved one's home and finding out more about any risk factors they are faced with each day that could lead them to fall. These risk factors can include things like arthritis, poor eyesight, medication and dehydration. For many seniors, installing grab bars at key locations in the house can make a massive difference.
To learn how our companion home care aides can help your loved one stay safe, please call our Midlothian, VA office today at 804-423-6500!
Download Your Free Safe & Steady Fall Prevention Resource Guide today.
Serving Midlothian, Richmond, Chesterfield, Henrico and throughout the Southside neighborhoods of Brandermill, Bon Air, and Westhampton
Visiting Angels in Midlothian, VA
2405 Dovercourt Dr #A
Midlothian, VA 23113
Phone: 804-423-6500