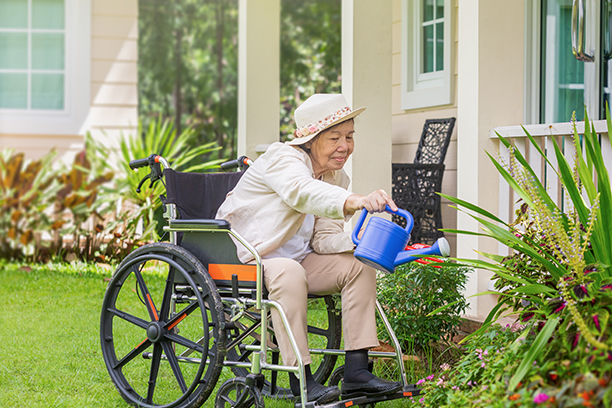 Recovery Care from Qualified Caregivers in Richmond VA
With help from our caregivers, seniors are able to recover safely and comfortably after surgery in the comfort of their own homes in Richmond VA, including the counties of Chesterfield, Powhatan and Henrico
As we age, our bodies don't recover as quickly as they used to. Our senior loved one's many struggle to fight off colds or the flu. You may notice that it takes longer for their cuts or bruises to heal, simply because their bodies are not moving as quickly as they did in the past.
Recovering from a surgery or serious illness can take weeks and often means seniors will need a bit more help in their homes. With help from Visiting Angels Richmond VA, our trained caregivers will be able to assist your senior loved one in getting back on their feet.
How Our Home Care Services Help Seniors Recover
Seniors who are recovering after surgery often need help with everyday tasks, from meal preparation and bathing to housekeeping. We understand that every person has different needs, which is why we offer personalized in-home care plans.
Before we start providing care, we will learn about your loved one's needs, preferences, abilities and limitations, and create a plan that is tailored to their unique situation. This way we are able to ensure that your loved one will receive the level of care they require and deserve.
At Visiting Angels Richmond VA, our caregivers are trained to assist with various daily tasks, such as:
Meal Preparation: We want to ensure that our clients have access to nutritious meals during their recovery. This is why our care providers will go grocery shopping, prepare home-cooked meals and make sure your loved one is following doctor's orders when it comes to their diet.
Mobility Assistance: Seniors who had surgery are often prone to falls. With help from our personal care assistants, your loved one will be able to move around the house safely, without putting their health or recovery at risk.
Bathing and Grooming Assistance: Maintaining personal hygiene is important for both physical and mental health. Our care professionals can help your loved one with bathing, grooming, toileting and other personal needs.
Light Housekeeping: Our caregivers can assist your loved one with light housekeeping such as, processing laundry, making the bed, taking the trash out and other light housekeeping tasks, therefore ensuring that they recover in a clean living environment.
Medication Reminders: During their recovery, your loved one will most likely have to take several medications throughout the day. Our care providers will ensure they take them as prescribed.
Long-Term Care for On-Going Support
Some surgeries and illnesses can leave seniors with long-term care needs. Orthopedic procedures can make it difficult for seniors to drive, get around their homes, or stay active. It is common for seniors to experience memory loss, confusion, and other cognitive decline as a result of some surgeries.
If after an illness or operation you loved one needs more long-term support, Visiting Angels can help with this as well. We understand that recovery may take longer than expected and our caregivers will be there to support your family every step of the way.
This can include:
Overnight monitoring to prevent wandering and make trips to the bathroom safer
Companionship and conversation that encourages an active, social lifestyle
Help getting to appointments and the pharmacy
And more!
If you believe your parent could benefit from our home care services during their recovery, please contact our office in Midlothian, VA by calling 804-423-6500 today.
Serving Midlothian, Richmond, Chesterfield, Henrico and throughout the Southside neighborhoods of Brandermill, Bon Air, and Westhampton
Visiting Angels
RICHMOND, VA
14321 Winter Breeze Dr #83
Midlothian, VA 23113
Phone: 804-423-6500
Fax: 804-423-6533