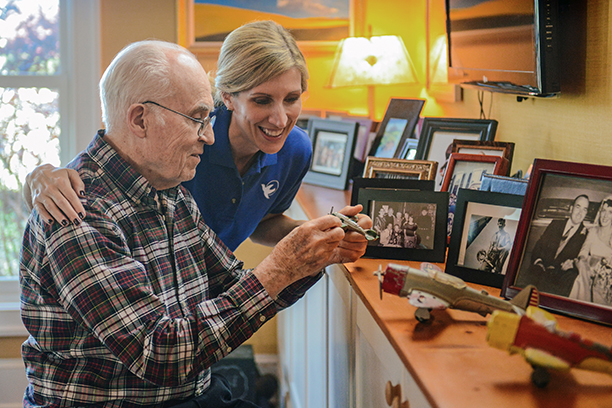 Experienced In-Home Caregivers in Rockford, IL and Surrounding Areas
Visiting Angels hires in-home caregivers that are experienced in providing the care our clients in Rockford, Belvidere, Loves Park, Cherry Valley and surrounding areas in Illinois need to safely and comfortably age in place
When seniors in Roscoe, Cherry Valley, Loves Park, Rockford, Belvidere and other communities in Boone and Winnebago Counties seek professional, compassionate home care services, they turn to Visiting Angels Rockford, the leading senior care provider in the area. We are honored that hundreds of families choose us as their partner in care, relying on us to help their loved ones lead happy, dignified, and independent lives as they age in place.
Visiting Angels has become a household name in the greater Rockford area due to our vast experience working with older adults with different needs, from those with small health or mobility issues to those with dementia or other progressive, incurable diseases. With the help of a dedicated in-home caregiver, your loved one can enjoy the same high quality of service as so many clients before them and you can get peace of mind that they truly are well taken care of.
Why Choose In-Home Caregivers from Visiting Angels Rockford?
An experienced in-home senior care provider from Visiting Angels Rockford can help your loved one prolong independent life at home. With us, your parent will not just receive the best care there is in the comfort of their house or apartment, they will be able to choose the services they get, set their own care schedule and enjoy the freedom that comes with their preferred lifestyle. Daily tasks and activities that may have become to difficult for them to perform on their own do not have to take a toll on their ability to gracefully age and enjoy their golden years as much as possible.
At Visiting Angels Rockford, we believe that caring for senior adults is more than just providing companionship. We are committed to helping seniors maintain their independence and stay at home as long as possible.
When your loved one is matched with a compatible, experienced in-home caregiver, you can rest assured that they are trained and qualified to help your parent with any task at hand, both with those your loved one needs help with and those you may not be aware of are challenging for them. For instance, our caregivers monitor our clients' diets and ensure they are eating healthy, nutritious meals every single day. They help with personal hygiene, housekeeping and getting to social activities and events. They are also there to offer invaluable companionship and comfort as well as encourage physical, mental and social activity.
Easy, Flexible Scheduling
We are available to help your loved one 24/7. No matter how much care your loved one needs, we are ready to accommodate all their requirements. An in-home caregiver from Visiting Angels Rockford can assist your loved one during the day, stay overnight and provide care on weekends and holidays too. What is more, it is important to know that you can always alter your loved one's care schedule, for instance, if they require more or less care. You can make any changes to their care plan you think will benefit them and their well-being.
We offer in-home elderly care services for seniors from Rockford, Belvidere, Loves Park, Cherry Valley and surrounding communities throughout Boone and Winnebago Counties. From companion services to personal care assistance, we will be there every step of the way.
Contact our Rockford, IL office at 815-977-3452 today to learn more about our in-home caregivers and gift your loved one the gift of independent life in their golden years.
Serving Rockford, Winnebago, and Boone Counties
Visiting Angels
ROCKFORD, IL
3600 E. State St #303
Rockford, IL 61108
Phone: 815-977-3452