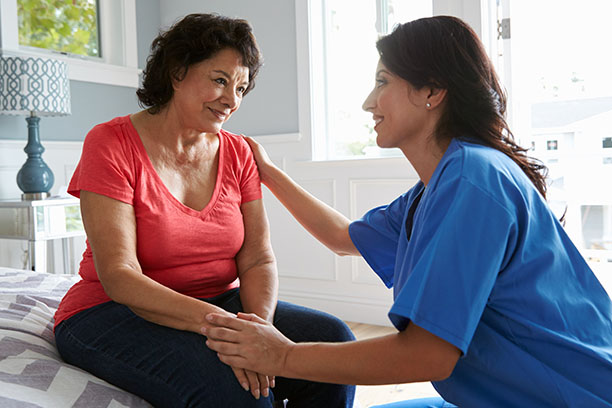 In-Home Dementia Care for Seniors in Rockford, IL and Surrounding Areas
With in-home dementia care from Visiting Angels, seniors in Rockford, Belvidere, Loves Park, Cherry Valley and surrounding areas in Illinois can get the support they need to manage their symptoms while continuing to live independently at home
At Visiting Angels Rockford, we stray away from the one-size-fits-all approach to dementia care services. We are fully committed to providing personalized care plans that meet the needs and conditions of all of our senior clients throughout Boone and Winnebago Counties in Illinois.
What's more, we make memory care education readily available to all of our caregivers as a part of an internal training program. This means that any of our caregivers can opt to receive the training, after which they receive a certificate. We also partnered with experts in the field to provide advanced training to those that are interested in it.
It is through these partnerships that we are able to provide our caregivers with specialized certificates in Alzheimer's Care, Activities Training and other training related to the care of those with memory-related illnesses. When you hire Visiting Angels Rockford for dementia home care, you can be certain that your loved one will be in capable hands.
"Visiting Angels has been the perfect solution to keeping our mother in her own home. They offer care in dementia which is hard to find in home health services. Our caregivers have been kind and responsive and keep us abreast of any and all concerns or changes. The office staff are friendly and accommodating. You honestly feel that they care about you and your loved one. I would absolutely recommend!"
- Erika
Why Choose Dementia Care from Visiting Angels Rockford?
Here are some reasons why you should choose Visiting Angels Rockford to be your partner in memory care:
Our caregivers are fully trained Dementia Care Specialists and are educated in the latest communication and behavioral techniques
We take into account our client's current and previous interests when we are formulating a personalized care plan
We provide as many services as our families want, and they are in charge of choosing what they want for their loved one
We make it a point to understand our clients' abilities, tastes, and interests when matching them with a caregiver
Our care plans can be centered around some of these focal points

Focusing on building structure and daily routines to combat the stress associated with memory loss
A healthy diet that is nutrient-rich and designed to support brain health
Mental and sensory engagement and physical activity
Far too often those families that have a loved one diagnosed with a memory loss condition face the difficult decision on how to best care for them. Providing in-home care may very well be the best option for a majority of people suffering from dementia. Our memory care program was developed in-house and includes the latest clinical information and best practices. Our approach is also much more holistic in nature and we make it a point to provide fully customizable care plans that can be adjusted on the go.
For more information on how our dementia care services can help your senior loved one, call our local Rockford, IL office at 815-977-3452 or schedule a free in-home consultation online.
Serving Rockford, Winnebago, and Boone Counties
Visiting Angels
ROCKFORD, IL
3600 E. State St #303
Rockford, IL 61108
Phone: 815-977-3452