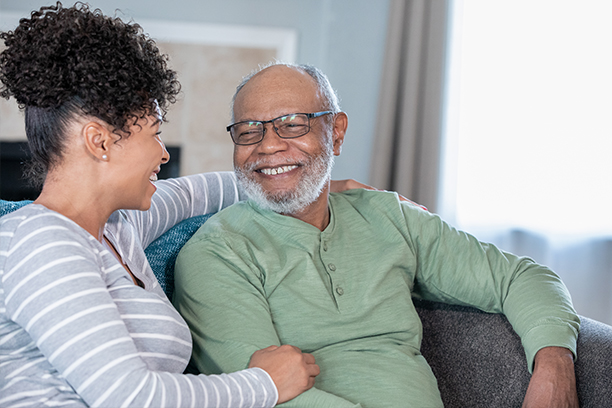 Visiting Angels Offers In-Home Care for Seniors with Dementia in Rockford, IL and the Surrounding Areas
Explore i
n-home care for seniors with dementia

in Rockford, Belvidere, Cherry Valley, Loves Park and nearby cities in Illinois from Visiting Angels

Families coping with a memory impairment diagnosis face the difficult decision of how to provide the best care for their loved one. In-home care for seniors with dementia can be a good option for many dementia sufferers.

Visiting Angels Rockford has developed an in-home memory care program based on the latest clinically reviewed best practices for dementia care. We take a holistic, individualized approach to engage our clients through communication and behavioral strategies.
Core Principles Guide Our Memory Care Program
Most importantly, when it comes to caring for their loved one, our families are in charge. We do as much or as little as they prefer. Our caregivers are certified Dementia Care Specialists, trained in communication and behavioral strategies.
We use our client's background and personal interests to create their care plan. We strive for a clear, accurate understanding of our client's abilities, tastes, interests, values and spiritual beliefs. We then combine these elements to provide customized care.
During the initial meeting, we will help you identify what type of care you need and assist you in choosing the right person for your needs. Our customized care plans are developed according to each client's specific needs. We assess each client's individual wishes, desires, and abilities to determine a care plan that serves the client's needs.
Our goal is to provide top-quality in-home care for seniors with dementia to help our clients live out their golden years at home.
Our in-home care for seniors with dementia program is built around these pillars:
Build a structured daily routine to help reduce stress associated with memory loss

Choose a healthy nutritious diet that is high in protein to support brain health

Hydrate adequately, get enough fluids, daily, to help reduce mental decline

Engage mentally, tailored activities support cognitive functioning

Exercise, physical activity can improve cognitive abilities better than medication

Listen to music, music therapy can greatly improve mood and cognitive functioning

Monitor the environment to reduce confusion and agitation
How In-Home Care for Seniors with Dementia Treats the Whole Patient
At Visiting Angels Rockford, our personalized, holistic approach to memory care helps our clients retain their cognitive and physical abilities as much as possible. We do activities and tasks "with" our clients instead of "for" our clients. Our goal is to increase their feelings of dignity, self-respect and help them live with a sense of purpose and meaning. We help them reengage in their lives, giving them a sense of belonging and purpose.
If negative behaviors occur such as verbal outbursts or wandering, we provide opportunities to reduce or eliminate them. We welcome reminiscing and recalling beloved lifetime memories with your loved one because we believe bringing the past into the present preserves their self-worth.
Why Choose Visiting Angels Rockford?
Our in-home memory care program was developed in-house and includes the latest clinical information and follows best practices for memory care. Our compassionate, trustworthy caregivers and can handle any dementia situation, plus provide in-home senior care services like preparing meals, grocery shopping, running errands, assisting with hygiene and many others. Our staff is trained to handle any dementia situation, and we provide a variety of services in your home including Alzheimer's care and other services that can help you live a better life.
If you would like to learn more about how we assist seniors who are living with dementia in Boone and Winnebago Counties, call our Rockford, IL office at 815-977-3452.
Serving Rockford, Winnebago, and Boone Counties
Visiting Angels
ROCKFORD, IL
3600 E. State St #303
Rockford, IL 61108
Phone: 815-977-3452