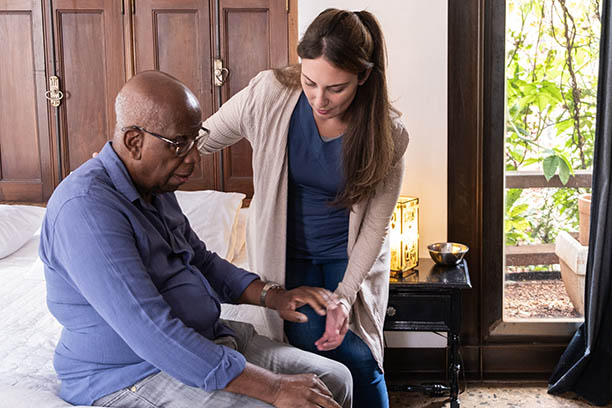 Comforting Palliative Care at Home for Seniors in Rockford, IL, and Surrounding Areas
Visiting Angels provides personalized and comforting palliative care at home to seniors in Rockford, Belvidere, Cherry Valley, Loves Park and surrounding communities throughout Boone and Winnebago Counties, IL
Visiting Angels Rockford is providing seniors with a new alternative to assisted living facilities and nursing homes. Our services focus on bringing palliative care at home to our clients to help enrich their lives both physically and mentally. We assist seniors with daily tasks they are unable to do to make sure they do not have to leave the comfort of their own home.
What is Palliative Care?
Palliative care at home alleviates stress and fatigue from serious long-term diseases and health conditions – during any stage. It focuses on enriching and improving the quality of life for individuals and families regardless of life expectancy.
It is a type of holistic care that provides comfort for individuals who are suffering from symptoms of serious illnesses such as:
Cancer

Heart Disease

Kidney Disease

Alzheimer's Disease

Amyotrophic Lateral Sclerosis (ALS)

Parkinson's Disease

Chronic Obstructive Pulmonary Disease (COPD)
Palliative VS Hospice Care
While hospice is known mainly to treat those at the end of life cycles, palliative care at home can be used for anyone in need of physical, emotional, or spiritual support. It can also be a beneficial tool for coping with some of the painful long-term diseases above.
What Home Care Services Does Visiting Angels Rockford Offer?
Visiting Angels Rockford has a dedicated and thoroughly trained team of compassionate and warm-hearted caregivers that provide palliative care at home. Each is committed to enhancing the quality of life for all clients through individualized home care to meet your specific needs.
Physical needs


Providing personalized home care on a day-to-day basis for those not physically able




Emotional needs


Maintaining a positive and uplifting spirit while consoling those who may suffer from depression, loneliness, stress, or anxiety




Social needs


Taking time to form relationships with our clients and their families by talking, listening, and understanding




Spiritual needs




Helping clients find peace and alleviate stress by treating each individual with respect and integrity throughout the healing process
Why Families in Boone and Winnebago Counties Choose Us
Visiting Angels Rockford is a locally owned home care agency that prides ourselves on the service we provide to our clients. We offer palliative care at home to give seniors the ability to age gracefully from the comfort of their own home, companionship to those who are lonely and physical assistance for tasks when needed.
One of the main reason seniors prefer Visiting Angels Rockford is because of our amazing caregivers. Our compassionate and warm-hearted caregivers pride themselves on going above and beyond by providing top-notch in-home care to make sure your loved one is as comfortable as possible physically, emotionally and spiritually.
We thoroughly screen and train each caregiver to wishes to join our agency to make sure we find people who fit our values. We look for integrity, work experience and fantastic references.
We train each caregiver as if they would be working with our own family, so you never have to worry about the treatment of your family. This is how we find the most reliable, caring and considerate in-home care providers in the area. We also offer the ability to select your own caregiver to make sure they are a tailor fit for the needs of your family, contact Visiting Angels Rockford today to set up a meeting with one of our caregivers!
Schedule your FREE In-Home Assessment Today
Schedule your FREE in-home assessment today by contacting our Rockford, IL office at 815-977-3452
Serving Rockford, Winnebago, and Boone Counties
Visiting Angels
ROCKFORD, IL
3600 E. State St #303
Rockford, IL 61108
Phone: 815-977-3452