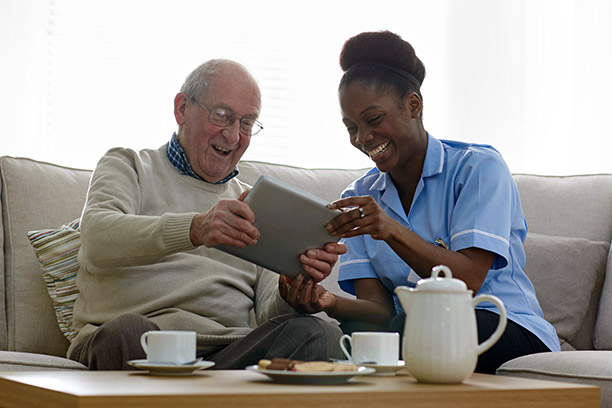 Alzheimer's Care Services in Sioux City
Our Mission: To Improve the Quality of Life for Those Suffering with Alzheimer's Disease and Their Families
At Visiting Angels® Siouxland, our Alzheimer's care services in Sioux City, Siouxland, and other communities in Northwest Iowa give support and assistance to seniors coping with Alzheimer's disease. Our aim is to allow those with Alzheimer's to enjoy the comfort and independence that comes with living in their own homes and maintaining the familiarity of their daily routines. In-home Alzheimer's care services in Sioux City can also help seniors avoid the trauma of moving to a new, unfamiliar environment like a nursing home or assisted living facility.
About Our Alzheimer's Care Services
After a loved one in Sioux City is diagnosed with Alzheimer's disease, it is often up to the family to make challenging decisions concerning his or her care. Family members who are overwhelmed by the responsibilities of their personal and professional lives may be unable to provide their loved one with the attention and care that they need. Fortunately, at Visiting Angels Siouxland, our compassionate Alzheimer's care providers in Sioux City can give family caregivers respite and peace of mind that their loved one is secure, comfortable, and in a familiar environment. In addition to ensuring that your loved one receives the support and assistance that he or she deserves, we provide regular monitoring, routine check-ins, and convenient availability to give you confidence that he or she is in good hands.
Getting Started with Alzheimer's Care
At Visiting Angels Siouxland, we make it easy to get started with Alzheimer's care in the Sioux City area. We'll first meet with you and your loved one in person for a free care consultation. This care consultation is intended to help you decide if our Alzheimer's care services in Sioux City are the right choice for your family. During this time, we'll answer your questions and address your concerns while also evaluating your loved one's specific care needs. Then, we'll compile this information to provide you with options concerning his or her customized Alzheimer's care plan. Should you choose Visiting Angels Siouxland as your Alzheimer's care provider in Siouxland, Northwest Iowa, or Sioux City , we'll then select a talented caregiver from our team who is uniquely qualified to provide your loved one's Alzheimer's care services.
Are you ready to help your loved one get started with Alzheimer's care in the Sioux City area? Contact Visiting Angels Siouxland today for more information about scheduling your free in-home care consultation in Sioux City, Siouxland, or a nearby community in Northwest Iowa.
Serving Siouxland including Sioux City, IA and parts of Northeast Nebraska & Southeast South Dakota
Visiting Angels
SIOUXLAND
3133 Floyd Blvd #B
Sioux City, IA 51108
Phone: 712-212-9246
Fax: 712-212-9246