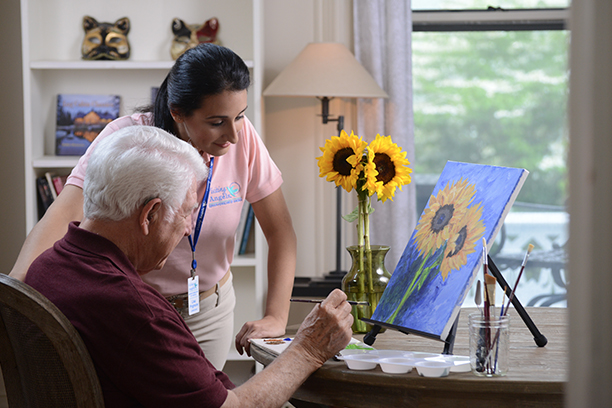 Home Care Services in Sioux City
When you choose Visiting Angels® Siouxland as your loved one's home care services provider, your loved one will receive personalized care based on their specific needs in Sioux City. We understand that you may have many questions and concerns when it comes to arranging your loved one's home care. That's why our helpful staff is here to provide you with the information you need to make the best decision for your loved one. Whether they are based in Sioux City, Siouxland, Northwest Iowa, Spencer, or the surrounding communities, our home care services can assist your loved one with the challenges of elderly living.
Complete Home Care Services in Sioux City
Getting started with our home care services from Visiting Angels Siouxland is easy. We'll first review your loved one's needs by visiting their home in Sioux City for a free care consultation. We can also meet with other involved family members, or even your loved one's physician or nursing home staff. This consultation will help us gain a more comprehensive picture of your loved one's needs, including their daily routines, preferences, and challenges.
After meeting with you and your loved one in Sioux City, we'll work with you to create a personalized home care services plan that fits your loved one's needs and offers you peace of mind about their care. We'll also select a caregiver from our talented team of professionals at Visiting Angels Siouxland who has the unique qualifications to deliver your loved one's home care. We consider a variety of factors during the caregiver selection process, including your loved one's habits, lifestyle, personality, scheduling preferences, and types of care required.
Our caregivers in Sioux City are prepared to assist with a wide range of activities, including the following:
Bathing, dressing, and grooming routines
Walking and mobility issues
Planning and preparation of nutritious meals
Friendly, engaging companionship
Running errands and going shopping
Providing medication reminders
Light chores around the house
Respite care for family members
Short-term or long-term care
Daytime, evening, and 24-hour care
Maintaining independence and control is a concern for many seniors. Our team allows your loved one to remain in control of their in-home care journey. If they are unsatisfied with their initial caregiver pairing, they can request a new pairing through our Select Your Caregiver® program. We hope that each of our clients feels safe and comfortable receiving care from our caregivers.
Another way we allow your loved one to stay in control is by making it easy to change their care plan. All it takes is a simple phone call to our team to make changes to the services your loved one receives and their schedule of caregiver visits. Our team is happy to work with you, your loved one, and their physician to make any necessary changes. You can rest assured your loved one's needs will be met at all times.
About Our Knowledgeable and Compassionate Caregivers
At Visiting Angels Siouxland, we employ a group of local caregivers who are knowledgeable and passionate about senior care. Before joining our team, each caregiver is vetted through a series of interviews and background checks. This helps us narrow our selection down to caregivers who are trustworthy and can meet the needs of our clients. It also brings you an increased level of comfort and peace of mind.
Our caregivers have around-the-clock availability. Whether your loved one needs occasional visits from a caregiver or full-time care, we can create a schedule that will meet their needs. Our availability includes evenings, weekends, and holidays. You can be sure your loved one is receiving care when it is needed. Our caregivers are also available to provide respite services for families in our area. We understand family caregivers need breaks. We can step in and provide the care your loved one needs while you take time to rest or tend to other obligations.
An essential component of our home care services is communication. Our caregivers will communicate with you frequently regarding your loved one's health and well-being. We can answer questions you have about their daily routine, services, and abilities. We are also here to listen to your concerns and help you ensure your loved one is well cared for. If you ever need to reach us concerning your loved one's home care services in Sioux City, just give our office a call. If you reach voicemail, we'll call you back in fifteen minutes or less. After all, your peace of mind is our priority.
Learn More About Visiting Angels Siouxland
We would love to help you get started with our in-home care. Our team is here to guide you on this journey and bring you peace of mind. Learn more about getting started with our home care services in Sioux City today. Call Visiting Angels Siouxland for a free care consultation in Sioux City, Siouxland, Northwest Iowa, or the surrounding communities.
Serving Siouxland including Sioux City, IA and parts of Northeast Nebraska & Southeast South Dakota
Visiting Angels
SIOUXLAND
3133 Floyd Blvd #B
Sioux City, IA 51108
Phone: 712-212-9246
Fax: 712-212-9246