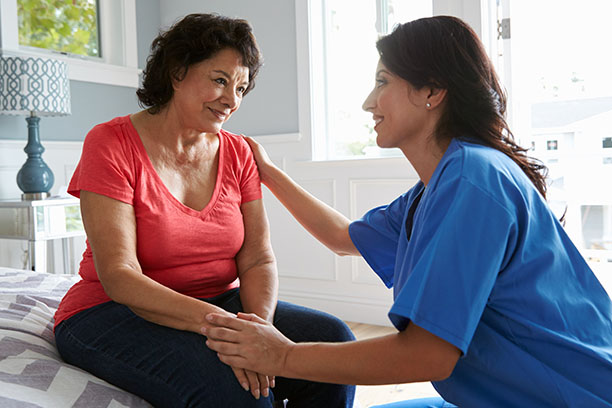 Dementia Care in Sioux City
There are few challenges a senior can face greater than dementia. That's because chronic memory loss doesn't just impact the senior themselves, it has a domino-like affect on the entire family. If you're the caregiver for a family member with Alzheimer's or dementia, you already know that all too well. Keeping them on track with their medications and taking them to appointments and therapies can quickly overtake your life, leaving you run-down and even putting your loved one at risk. So what can you do to help your loved one in Sioux City? Compassionate dementia care from the skilled professionals at Visiting Angels® Siouxland may be just what you've been looking for.
Customized Dementia Care for Sioux City
In order for a senior with dementia to remain safely at home, they may require support in a variety of areas of their life, from performing personal tasks related to washing and dressing to just keeping track of everyday activities. Whatever the task, our dementia caregivers in Sioux City will not only be there to guide them smoothly through any rough patches, they will also always keep your loved one's dignity at the fore.
A few of the dementia care services we can provide to Sioux City seniors include:
Preventing them from wandering inside and outside the home
Ensuring they eat healthy meals and drink enough fluids
Making sure medications are taken on time and prescriptions stay filled
Managing emotional symptoms including outbursts, fits, and anxiety
Transporting them to medical appointments and on errands
Free Dementia Care Consultations for Sioux City Families
At Visiting Angels Siouxland, we understand that life moves fast and your needs, or your loved one's can change on any given day. That's why which dementia care services your loved one receives, how often, and on what schedule is completely up to you. We'll also always do our best to accommodate changes to your loved one's plan, even on short notice. Along with Sioux City, we also provide dementia care services to families in Siouxland and to communities across Northwest Iowa. If you have a loved one experiencing chronic memory loss, there is no better time to learn about your options.
For more information on the dementia care services available to your family in Sioux City, Siouxland, Northwest Iowa, & Spencer, call Visiting Angels Siouxland and book a free, in-home consultation today.
Serving Siouxland including Sioux City, IA and parts of Northeast Nebraska & Southeast South Dakota
Visiting Angels
SIOUXLAND
3133 Floyd Blvd #B
Sioux City, IA 51108
Phone: 712-212-9246
Fax: 712-212-9246