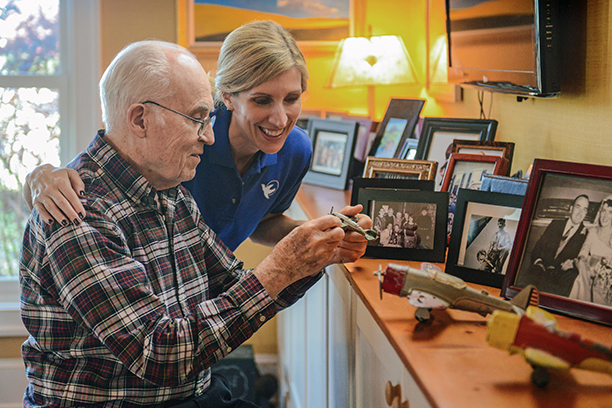 Support for Alzheimer's Patients in South Phoenix, Ahwatukee Foothills, Maricopa, Laveen, Waddell and Buckeye
Visiting Angels Offers Support for Alzheimer's Patients in Maricopa, Surprise, Buckeye, Laveen, Waddell, and nearby South Phoenix suburbs
The Alzheimer's Foundation of America shared that at least 5.1 million American may have Alzheimer's disease. This is a fatal disease that effects the brain and mental cognition, causing the slow decline of memory, thinking, and reasoning skills. Being diagnosed with this disease can be terrifying or upsetting to an individual as well as to their family and friends—thankfully there are precautions that can be taken to help everyone through this hard time.
Sadly, there isn't a cure for Alzheimer's, but there are therapies and treatment plans that can assist with slowing the symptoms, leaving more opportunity for a more positive quality of life—such as in home care assistance. If you are concerned that a loved one may be affected by Alzheimer's it is important to schedule an appointment with their doctor. If they are diagnosed with Alzheimer's, you should get in touch with a care agency and get a plan in place as soon as possible for in home care assistance.
Top Ten Warning Signs of Alzheimer's:
Memory loss – forgetting key information like names, addresses, appointments, where things go, where they put their keys.
Problem Solving and Planning – includes problems following things like recipes they are familiar with, paying their monthly bills, and spending too much time on familiar tasks.
Confusion – unsure of dates, time, and the seasons.
Visual Images and Spatial Relationships – this includes difficulties with determining distance or color/contrast and reading.
Speaking or Writing – difficulty finding the right words, following conversations and directions, and talking in complete sentences.
Losing Things or Getting Lost – Alzheimer's can lead to misplaced things, getting lost, accusing others of stealing.
Poor Judgement – problems with money, scams, and personal hygiene.
Withdrawal – from social activities and work.
Mood and Personality – increases in depression, anxiety, fearfulness, suspicion, and sudden mood swings.
If you have a loved one displaying any of these warning signs, please have them see their doctor about getting an Alzheimer's evaluation. It's common to think that Alzheimer's or it symptoms are part of the normal aging process, but they're not. Not every person will experience the same symptoms and each person's experience will differ, but the one thing that all Alzheimer's patients experience is that the symptoms will gradually increase and become more persistent over time, typically needing in home care assistance.
Support for Alzheimer's Patients
If your loved one is diagnosed with Alzheimer's by a medical professional, it is best to be proactive when moving forward with care or in home care assistance. The more you can manage the disease, the better for your loved one and your family.
There are a few basic steps that you may find helpful if you find yourself in this medical situation:
Learn as much as you can about Alzheimer's disease by visiting the Alzheimer's Association and the Alzheimer's Foundation of America.
Long-term Planning - this is the time to take care of things like long-term care plans, finances, legal issues, and issues that are going to come up when your loved one passes.
Cognitive Stimulation – doing things with your loved one like puzzles, listening to music, and playing memory games can help slow the progression of this disease and are a lot of fun.
Hire the Right Care – while your loved one is still in the early stages is the best time to find the right essential elder care services in Aurora or the surround areas. At Visiting Angels of Aurora, we have caregivers who are trained to work with clients who have Alzheimer's disease. Keep in mind that the longer you wait the harder it will become to integrate an in home caregiver into the picture.
If you find yourself in need of more information or needing to explore in home care assistance options for a loved one with Alzheimer's, don't feel like you're alone. At Visiting Angels, we are here for you. Give us a call at 480-571-2086 or request Alzheimer's care here to learn more about support for Alzheimer's patients.
Contact Visiting Angels of South Phoenix
To learn more about the elder care services we offer for those who have been diagnosed with Alzheimer's disease, contact our agency at 480-571-2086 or fill out our intake form and schedule your free in-home care consultation with one of expert care managers.
Serving South Phoenix, Ahwatukee Foothills, Maricopa, Laveen, Waddell and Buckeye
Visiting Angels
SOUTH PHOENIX, AZ
16815 S Desert Foothills Pkwy STE 123
Phoenix, AZ 85048
Phone: 480-571-2086