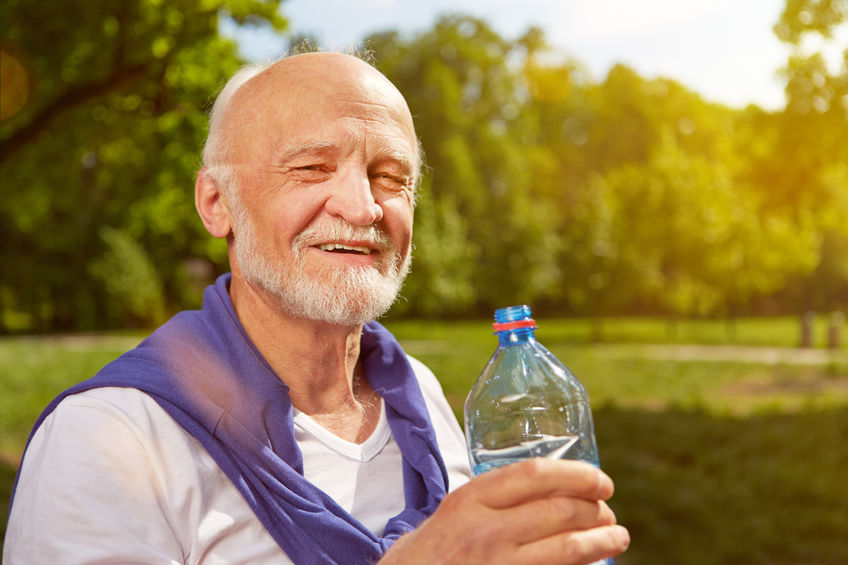 Staying Cool This Summer
After spending so much time indoors last year, it feels extra refreshing to enjoy the outdoors this summer. So, if you are planning to make the most of the warm weather this year, make sure to follow these tips to help you stay cool this summer.
Stay Hydrated
Keeping your body hydrated during the summer months is one of the most important things for you to do to keep yourself cool. If your body loses more fluids than you consume, it can cause dehydration. If you are dehydrated, you may experience a dry mouth, extreme thirst, infrequent urination, fatigue, dizziness, or confusion.
To reduce your chances of dehydration, try to keep your body consistently hydrated by drinking water throughout the day. Try to aim to consume at least seven 8oz glasses of water each day. If you're spending time outside or doing something physical, make sure your fluid intake increases. To help encourage yourself to drink more water, try to have at least one glass with every meal. You can also add fruit slices or berries to your water for some flavor. Also, avoid drinking excessive amounts of caffeine and alcohol as these substances can dehydrate you.
Keep Your Home Cool
Even if you're staying inside most of the summer, you still want to make sure you're staying cool. If you have central air in your home, keep the settings around 70 degrees to keep your house at a reasonable temperature. If you don't have central air, consider purchasing a window unit or two, depending on the size of your home. Keep the window units in rooms where you spend the most time, such as the bedroom or living room.
If you can't get air conditioning in your home, fans make a great alternative for keeping your house cool. You can find window fans, tabletop fans, or floor fans. If you choose to use a floor fan, be sure the fan isn't blocking any walkways. Also, make sure the power chords are tucked away or taped against the wall to eliminate and falling hazards.
Wear Breathable Clothing
To reduce sweating and keep your body cool while outside, consider breathable clothing. Apparel made with breathable fabrics allows your body to get air, making you less likely to sweat.
Stick to fabrics such as polyester or nylon. These materials are often used in workout clothes and don't absorb moisture, making it easier for you to cool down if you're sweating. Cotton is also a breathable fabric; however, it does absorb moisture such as sweat. So if you're prone to sweating or you're planning a physical activity outside, it may be best to wear something other than cotton.
Enjoy the Water
Spending time near the water is one of the best Minnesota summer pastimes. On a warm day, take a drive to your favorite nearby pond or lake. You can walk along the shore and allow the cool water to splash on your feet. Or, if you're hoping for a workout, you can take a swim. Make sure to bring a friend, family member, or caregiver if you plan on being active. Having someone with you will keep you safe in case of an emergency.
If you cannot visit a nearby body of water, you can purchase a small portable pool or find a large tub to fill up with cool water. You can then stick your feet in the water and enjoy the scenery of your neighborhood. Whatever water activity you choose, be sure to apply sunscreen to keep your skin safe in the sun!
Eat Cool Snacks and Light Meals
Having a cold meal to enjoy at the end of the day is a great way to keep yourself cool this summer. Instead of cooking hot, heavy meals, try preparing meals that can be enjoyed cold, such as a chilled pasta salad, sandwiches, or chilled soups. Keep yourself cool between meals with a scoop of ice cream, a popsicle, or frozen yogurt. If you're in the mood for a healthier option, enjoy a piece of fresh fruit or snack on some vegetables. Fruits and vegetables are also an excellent option for keeping yourself hydrated.
If you or an aging loved one needs help staying cool this summer, the team at Visiting Angels St Louis Park, MN is happy to help. Our caregivers can help clients remain hydrated, makes sure homes are cool, take clients out to enjoy water activities, and help prepare meals. We also provide personal grooming services, medication reminders, and companionship. Our St Louis Park office serves those in Minneapolis, St Louis Park, Golden Valley, Richfield, and the West Metro. If you'd like to learn more about our services, you can complete this online form or give us a call at 952.935.0789.